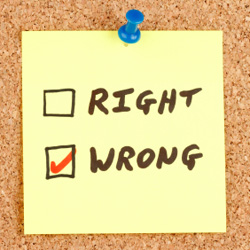 Before you pop champagne to celebrate your new job, you might want to consider focusing that energy on making a good impression at your new job instead. Hate to break it to you, but you're still in your "interview stage" during the first three months, says Stacey Hawley, Principal at Credo, a career services company.
"Everyone is watching what you do to make sure you're a good hire," Hawley says. Roberta Matuson, president of Human Resource Solutions and author of Suddenly in Charge, would agree and says, "There is no honeymoon period."
No pressure, right?
Don't worry—We spoke with pros in the field who constantly deal with good and bad new hires. From successful start-up owners to HR veterans, seasoned experts share the worst things that employees often do to hurt their credibility.
1. Say 'That's Not My Job'
"With the fast pace of business nowadays, one's job duties can morph quickly," says Yung Trang, President of TechBargains.com, a company that has tripled in size in the last three years. Plus, it makes you seem like you're not a team player.
In fact, Trang encourages employees to go above and beyond the call of duty.
He says he's seen people hurt themselves irreparably if they don't do their best to exceed expectations.  "No matter what you do later, they'll always remember their impression," Trang says.
So, lend a hand when you're needed.
2. Speak Out of Line
It's tricky — while it's great to go above and beyond as a new hire, Uva Coles, Dean, Career Management Services at Peirce College in Philadelphia warns us that it's easy to get carried away and step on other toes. Maintain a balance.
"Focus on the job you were hired to do and do it well before thinking about how to tell others how to do work that is well beyond your scope," Coles says.
3. Act Like a Know it All
This kind of goes hand in hand with No. 2. It doesn't matter who you are or how successful you've been in your field. You don't know everything.  For the first 90 days, be an observer.
"It's better to observe the people and the culture and to find out how the company is doing things now before making suggestions on how they could do things differently," says Stacy Pursell, executive search consultant of the Pursell Group.
4. Be Antisocial
If you're an introvert, try and push yourself to small talk at least for the first three months. It's tough, but the problem with antisocialism is, as the new kid, you might never integrate into the company's "family" if you don't build rapport.
"There tends to be a few-week window in which new hires are seen as the new face around the office -- after it closes, people may be less likely to reach out and respond to their new office mates," says Rachel Dotson, Communications Manager at Zip Recruiter.
So, say yes to lunch invitations and attend all the company functions—the window is open!
5. Take Vacations
How can you get settled in if you're jetting off? Hold off on your vacations. "If you do have a vacation already planned you should let the company know as a condition of accepting employment," Trang says. "Most companies will understand that this was a prior commitment and won't hold it against you."
6. Surf Facebook
It's your first few days—there's likely not a ton on your plate right now. So, why not kill that time with Pinterest, Facebook, Twitter, LinkedIn, etc.?
Well, because employers hate that.
"Most employers will not tolerate paying someone to be on the job, only to find that they are wasting a lot of time playing on their social networks," says Hunter Valmont, President of Hunter Valmont PR.
7. Get Involved with Gossip
It's pretty simple: "In your quest to be liked, don't make the mistake of getting in the middle of office politics or it may not be long before your departure is the talk of the office," Matuson says.
8. Lie About a Mistake
Don't give them a reason to mistrust you. If you make a mistake, come clean immediately. "Employers expect new personnel to commit errors," says President and CEO of LaSalle Network Tom Gimbel.
Mistakes aren't what make you a bad hire. It's how you react to those mistakes. "If they take responsibility immediately, most errors can be remedied without harming the company," Gimbel says.
9. Using 'I' Instead of 'We'
As the newbie, prove that you share the company's mission and goals—and you're not just a stone-stepper. The best way to do this is to omit the word "I" from your vocabulary.
"It's a team environment at all times...It's not "I did" even if it was all you...It's we...The conversation should always be about what "we" can do to make this more productive etc.," says Samantha Goldberg, celebrity event designer-spokesperson, television personality and experienced manager/trainer.