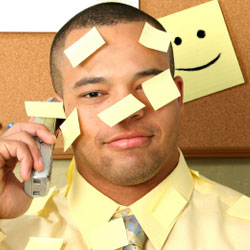 Heather Huhman, Gen Y expert and founder of marketing firm Come Recommended, described the  young workforce best in an interview with TNGG, when she said, "They want to work hard and prove their worth -- fast."
But Millennials' notorious need for speed is a double-edged sword.
On the one hand, a focus on instant gratification drives innovation and competition – on the other hand it's easy to drive right past the fundamentals that keep success from faltering.
But important career relationships don't come instantly. They take time to cultivate. And those relationships are built on a foundation of trust.
Benefits of solid, trusting professional relationships include: career advancement, smoother negotiations, strong recommendations and referrals, among others.
We spoke with a few career experts  who shared tips for how the younger generation of workers can build reputations of being trustworthy professionals.
1. Speak Up
Huhman stresses the importance of being open and honest.
"If something comes up and you're struggling to do something you said you would do, be honest about it. Ask for advice or an extension on your deadline," Huhman tells CareerBliss. "Most people will be understanding and accommodating, but the worst thing you could do is keep quiet and surprise them with an incomplete piece of work."
2. Follow Through
There shouldn't be a disconnect between your words and your actions: "If you tell someone you will do something by a certain time, make sure you do it," Huhman says. Or, as mentioned above, speak up and tell them you're in the weeds and ask for help.
3. Shut Up and Listen
If you're quick-firing your two-cents without taking significant time to properly analyze and acclimate to the situation, more established colleagues are likely to raise an eyebrow.
Young and new professionals sometimes "try too hard to prove that they are qualified for the position and that they fit in," says Mary C. Lastrapes, President and Founder and RTR Consulting. "As a result, they may go overboard elaborating on their qualifications, results and previous accomplishments."
So, practice active listening — ask questions to reaffirm that you understand the issue at hand before you go ranting about your fresh, amazing ideas.
4. Be a Team Player
"[Young and new professionals] may try so hard to stand out that they actually build walls around themselves contributing to an atmosphere of distrust and isolation," Lastrapes says.
It's okay to pass the ball once in a while. You'll also project your desire for the company to do well as a whole team — not just yourself.
5. Don't Fight Dirty
Huhman adds another way to lose trust: being hypercompetitive.
"Don't be manipulative to get ahead, but play by the rules and do your best work," she says. "Don't throw anyone under the bus trying to get where you're trying to go -- working together while letting your skills shine will get you much further."
6. Avoid Gossiping
"Keep your relationships with colleagues professional and appropriate," warns Joyce Marter, a licensed psychotherapist and owner of UrbanBalance.org.
7. R-E-S-P-E-C-T
This idea of gaining trust goes hand-in-hand with gaining respect in the workplace. Neither of these attributes requires your colleagues to actually like you — they just have to respect you as a professional. Marter says to demonstrate respect for yourself and others.
You can do this by "professional and diplomatic language, being on time and prepared for meetings, and taking yourself and others seriously while on the job," she says.
8. Don't Excessively Job Hop
Gen Y has gained a reputation of restless, disloyal job hoppers — quitting one company to join another for whatever reason (higher pay, more perks, ennui, etc.).  Almost 6 in 10 employed Millennials say they already have switched careers at least once, according to the Pew Research Center 2010 report, and 60 percent of those currently employed said they plan to bounce sometime in the future.
Don't run away from your problems — work it out. This high turnover among young folks begs the question: Are you discussing your personal goals with the company?
Communicate what you want and make as big of a ripple as you can at a company before you head for the exit too soon. A resume filled with too many jobs raises a red flag that reads "no loyalty!"