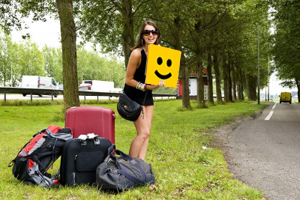 Relocating for a job is a fresh start -- a chance to reinvent yourself! It's an opportunity to wow a new team of colleagues with an awesome first impression and tackle a new set of challenges.
Sounds glamorous, right? But wait … before you start Craiglist-ing movers and whatnot, you have some kinks to iron out to make sure you're making the right decision. Whether you're applying long-distance or have already landed an offer in a faraway metropolis, don't let the dazzling side of relocating fool you into making a reckless decision.
Most employers allow you to mull over the offer before accepting. What a perfect opportunity to think about the following questions:
1. Could you stand living in the city?
"Remember how your university looked in those glossy brochures they sent you, and how different it turned out to be once you got there?" says Nicole Williams, connection director at LinkedIn and author of best-seller Girl on Top. "The same goes for what your HR department tells you about your new city."
That's why, if possible, take a trip to visit! Scope out the scene. If you're a social butterfly and love a good nightlife, for instance, ending up in Podunk City with little personal growth opportunity can seriously cramp your style and overall happiness.
And if you can't visit, do a little research on the city so that you're not totally flabbergasted when you arrive — for instance, is it one of the happiest or unhappiest cities to work in?  Consider your priorities: If you have a family for instance, factor their well-being into the equation.
2. Do you have enough time to move?
If you're currently a home renter, then you should ideally get about two months of wiggle room before your start-date, Mike Canning, Vice President of XONEX Relocation, a third-party relocation services company, explains in his official blog. And six months lead time is best-case scenario for homeowners.
3. Does the job offer include a relocation package?
The truth is, nowadays relocation packages are most commonly reserved for executive level professionals. But hey, it doesn't hurt to ask, says Steven Langerud, director of professional opportunities at
DePauw University
. "After all, the worst they can do is say no," he says.
If you're in the majority and you don't get to watch professionals movers haul off your stuff on the company's dime, Canning told us in an interview that "your final travel expenses may be deductible on your taxes, so, save your receipts!" 
If you're one of the lucky few, ask for the actual costs to be reimbursed or paid directly versus a flat fee, if possible, Langerud advises.
4. Is telecommuting an option?
The times they are a-changing, and Skype and conference calls are making it way too cheap and easy to telecommute. Sara Sutton Fell, founder of FlexJobs.com, says telecommuting could be a viable option and it's worthy of discussing.
After all, "this type of arrangement would save you and the employer money in terms of relocation costs and needing to provide office space," Fell says.
5. Can you afford to live in the new location?
The cost of living varies from area to area. In order to make sure your paycheck is going to cut the mustard, use this super convenient Cost of Living Calculator, which allows you to compare and contrast cities at the click of a button! Play the what-if game to get a better sense of how you might have to adjust your budgets.
Roy Cohen, career counselor, executive coach and author of The Wall Street Professional's Survival Guide, suggests you speak to a local accountant to understand whether your potential tax burden will change. "For example, some states like Florida have no state income tax which makes a big difference in take-home salary," Cohen says.
6. Does this job seem promising long-term?
Unless you're on a mission to experience the life of a nomad, why go through all of the hassle of moving for a temp job? Consider whether or not you could see yourself excelling at this position long-term.
"If the move represents positive growth in your career, that you cannot foresee at your current location, that should be given strong consideration," Canning told us. At the same time, your personal life aspects, such as family, friends and lifestyle activities should also be taken into consideration."
7. Do you think you will fit into the new company culture?
If you're a complete company cultural mismatched, both the company and your workplace happiness will take a huge sucker punch! We can't stress enough how important it is to research the company culture beforehand.
How can you research?
Login to social media sites
, start Googling furiously and set up informational interviews with folks at the company to get a feel for whether or not you'd be happy working there.
8. Are you willing to balance the potential gain from the new job with the risks?
Alright, now that you've considered some hardcore factors, it's time to flush and expand using the trusty pro-con list! Check out this savvy Pro & Con Calculator. It lets you rate each of your factors so it is weighted as accurately as possible.
"If the pros outweigh the cons and you're comfortable with the sacrifices you'll need to make, take the job," Williams says.