CareerBliss has salary info, hundreds of thousands of company reviews and millions of jobs!
---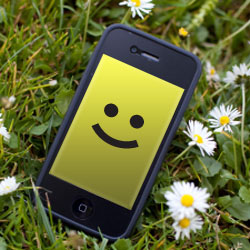 While smartphone addiction is a rampant problem in the workplace, it's hard to deny the usefulness of the devices. In fact, in a survey by technology company CDW three quarters of the IT decision-makers surveyed said smartphones and tablets is boosting employee productivity and saving companies money.
It's true, smartphones put a whole world of resources in the palm of your hand — but with a million apps, how can you be sure you've downloaded the coolest, most efficient ones?
CareerBliss to the rescue!
We asked tech experts about their favorite, can't-live-without apps for the workplace. Here are eight of the best apps designed to improve productivity and keep you organized (and don't be shy about adding to our list!).
Evernote
You simply can't have a conversation about awesome smartphone apps without mentioning Evernote! Seriously, it's a must have! Jotting down brainstorming ideas and creating to-do lists is, of course, super easy on this app. In addition, you can also collect article clips while you're researching and browsing the web and Evernote easily organizes them for you!
Pages
This app creates really awesome, beautifully designed word processer.
"It's like Word on the go! It's perfect for any professional who doesn't have access to their laptop but still needs to create professional-looking documents," says Shane Andrade, Director of Engineer at CyberCoders in a blog post comparing Apple vs. Android.
DropBox
It's the ultimate, organized storage bin for all your documents on the cloud.
"I use DropBox to transfer the notes, as PDFs to my computer which can then be searched by keywords," says Lawrence I Lerner, President at Lawrence Lerner Business Consulting.
Ah, makes life so much easier!
Note Taker HD
It really does create an endless notepad for you! It allows you to write notes on the iPad.  Lerner also says he has hundreds of pages of digital notes that he can store, search and create multi-media documents for himself and others to share.
"It also allows me to electronically sign documents.  The App has replaced my pen and paper notebooks with much more flexibility and versatility," Lerner says.
FlipBoard
Taking the time to comb through your usual publications for news (e.g. Time, CNNmoney, Wall Street Journal) can be time consuming. Maximize your daily intake of news and current events – and minimize your search time! -- by downloading FlipBoard for both Apple and Android.
FlipBoard creates a personalized magazine of the most shared stories from your favorite news sources. So whatever industry you're in, you can read up on the latest trends and discovering news! Pulse News is another good alternative to FlipBoard.
Clear
CTO of
Technori
Robbie Abed's favorite to-do list app is Clear for iPhone. It's as simple as 1-2-3! All you have to do is write up you're to do list and when you've completed an item, just touch it to virtually cross it out.  
It's even color coded so the tasks you mark as high priority appear in red at the top and it gets more orange and yellow for items marked less urgent.
"It helps me figure out what open items I have in the quickest way possible," Abed says.
CheckList by Mitsuru Yoshitomi
Cutting down on having to make small decisions can save you time and energy for your bigger decisions. Bruce Kasanoff, founder of
Sense of the Future,
says he likes the CheckList app best because of its simplicity.
CheckList allows you to create checklists for important tasks you do repeatedly, Kasanoff says, like how to validate survey results, pre-flight checklists, etc. Pulling out your checklist for routine stuff like that can help minimize last minute fumbles! That's why, "sometimes simple is best," he says.
Glympse
Got offsite meetings with clients and colleagues? Take the waiting game out of the meeting by using Glympse.
"I send this text to colleagues and friends when we are meeting at a location. It allows them to track me up to a certain amount of time so they know where I am," Abed says.
Not in a creepy way, of course! They can't track you after the allotted time has lapsed.
Guest posts make us happy! Want to contribute to CareerBliss? Check out our submission guidelines.