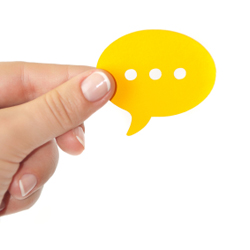 Small talk at work is only awkward if you make it out to be. Look at it this way: Talking to coworkers about niceties can be a wonderful break from the stress and obligation that comes with the "big" conversations, like meetings, performance reviews and strategy sessions. It's your chance to mindlessly nod, smile, and just chat.
We all need some small talk in our lives. It builds rapport, makes people more comfortable with each other and even has the power to brighten a coworker's day. Also, day-to-day small talk can add up to a more solid relationship, which is a great form of networking. You never know when an office acquaintance could help you out the next time you think about a career change or know a friend in need of a job.
We spoke with several communication and networking experts to discuss small talk, and narrowed down to 7 basic tips that everyone should know about how to practice the art:
1. Talk about Life Outside of Work
Small talk is an opportunity for you to chat about something that you aren't doing for 8-hours a day. Ask the other person about things they like to do when they're not working.
"If a person has children, ask him about his/her children, and the conversation is endless, no matter what age the kids are," Manners Expert Elise McVeigh said. "Topics that you can try include hobbies, sports, and, of course, the weather." Remember office etiquette and avoid touchy subjects like politics, religion.
2. Men, Feel Free to Tease Each Other
Diane Darling, author, founder, and speaker at Effective Networking Inc., finds that when men tease or insult each other, they come off as light-hearted and friendly; when women tease or insult each other, however, they come off mean-spirited.
"For instance, men can joke around after Thanksgiving, 'you gain a little weight?' " Darling explains. "It wouldn't work quite the same way if you women said that to each other."
3. Or Simply Play Nice
"You cannot go wrong with opening with a sincere compliment," Beverly Solomon, creative director for Musee-Solomon. "Find something about the person that you find interesting or attractive -- a piece of jewelry, a tie, whatever."
The key word here is: sincerity. People can sense fakeness easier than you think—so only go out of your way to compliment someone on something that you truly believe.
4. Let them do the Talking
While "elevator pitches" are great for networking events and meeting potential employers, it's not really a good lead into small talking.
"This mistakenly instructs people to lead with themselves.  It is better to use questions that get the other person talking about themself," said Thom Singer, networking expert and author of The ABC of Networking.
5. Confidence is Fundamental
For people lacking confidence, Dr. Barton Goldsmith, award-winning psychotherapist and author of 100 Ways to Boost Your Self Confidence suggests: "Believe that most people are friendly and want to chat a bit, just like you do," he said.
"By making the attempt to strike up a little convo you are telling the other person that you think they are cool, and everyone likes a compliment."
6. Talk Sporty
If you feel unconfident, boring, or helpless about your small talking skills, there is one thing that you can do today to get better: read up on sports. It's one of the most widespread and relatable topics out there.
In fact, America's Expert Talker Jen Mueller so strongly believes in sports as a great filler of the communication void in the workplace that that she began Talk Sporty to Me — a site that offers workplace conversation starters based on sports.
But what if you're not a sports buff and don't have the time to watch games?
"Just pick up the sports page and read the headlines," she suggests. "A good headline and sub-header will give you about 3 pieces of information which is plenty to get the ball rolling."
7. Don't be a One-Hit Wonder
Meaning, don't chat someone up once and then never build that relationship. Try and remember the small talk that you have so that the next time you run into them, you can follow-up on their son's little league championship or last weekend's holiday cruise they went on.
Open a memo in your phone to jot down notes to help you remember. You never know when networking with them in the office might pay off in the future.