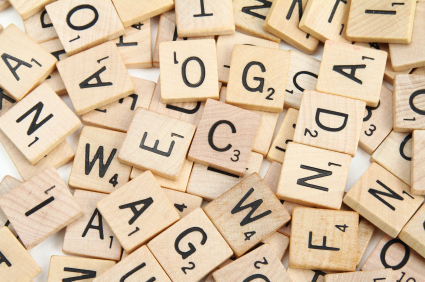 The workplace has been far from immune from the Words With Friends plague (a total of 5.7 million daily average users afflicted!).
But why?
Challenging your coworkers to a friendly game of virtual scrabble is one of the best ways to add a little f-u-n to your work relationships.
Just one game and you'll catch the bug.
Why not take a 2-min break from work to find that serendipitous, magical combo and scoop up a triple letter score! So the next time you pass by your opponent in the office, you can say
Aww yeah, how about that 120-point word — in your face!
And she'll probably retaliate with something along the lines of
Oh, it's on now!
A little trash talk can be fun, and friendly WWF competition can't hurt – so long as you're not an over-competitive jerk or a sore loser:
1. When You Get Whomped by a 150 point word … Play it Cool
Carolyn Fraser, a publicist at a Manhattan public relations firm, constantly plays WWF with a coworker who sits directly across from her.
"I notice that whenever I whomp him with a high-scoring word, he'll stop conversing with me until he retaliates with an apt high-scoring word," Fraser says.
Not cool, dude. A sore loser will never be a WWF champ.
2. Don't Pull an Alec Baldwin
Late last year, Alec Baldwin got kicked off an American Airline flight around last December for refusing to stop playing Words With Friends. Let's just say if anyone's asking you to stop playing WWF at work, you're in pretty deep. Get some help. 'Nuff said.
3. Wait at Least 8 hours Before *Nudging* Your Opponent
Allow your colleagues to get a full eight-hour rest before you send your polite nudge to remind them to make a move. Come on, be reasonable!
4. It's OK to 'Dumb Down Your Game'
Katreena Hayes-Wood has played with one too many folks with no knack for WWF — folks who leave easy triple point words open *rolls eyes*.
But being the bigger person she is, she simply shakes her head says "I learned to dumb down my game and kind of go with the flow." After all, not everyone is competitive!
5. Avoid Making Lewd Words – No Matter How Many Points You'd Rack Up
General rule of thumb: if you wouldn't play it with your mother, then don't play the word with your colleagues.  Otherwise, you will cross the border in awkward town!
6. If You Beat Your Boss, Don't Brag
WWF bragging rights are not worth jabbing a hole in your boss' ego. Keep it humble – even as you show him who the WWF boss is!
7. Whatever You Do … Don't Lose Face
I don't know if you've played with any real WWF lunatic fanatic in your office (talking to you, Andre!), but once you've been challenged to a WWF battle – there's really no opting out of it.
So, win. Do whatever it takes to win at least a few games (except for those things we brought up in points 1 through 5). Never give up and say Oh, I'm over playing WWF you will forever be known as the giver-upper. Because we all know, winners never tire of winning!