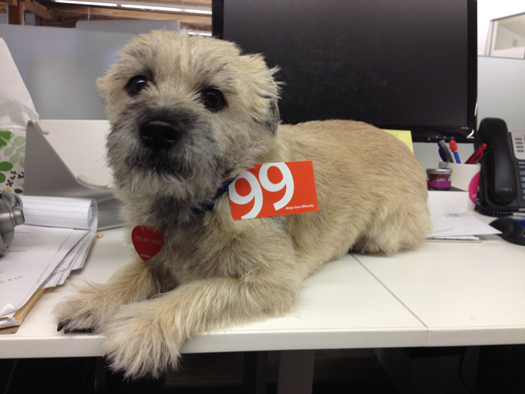 Who let the dogs out – and into the office?
Many employers realize that puppies bring a jolt of happiness to employees. After all, what better way to brighten up your day than spontaneous cuddle breaks with your best friend?
In fact, canines are scientifically proven to have a psychologically positive effect on people.
"In a survey by the American Pet Products Manufacturers Association, a majority of workers surveyed felt that having pets in the workplace leads to a more creative environment, increased employee satisfaction, decreased absenteeism and improved relationships between managers and employees," says Natasha Ashton, co-founder and co-CEO of Petplan (Fabrice and Jazzy are shown above at the Petplan office).
Check out some of our favorite dog-friendly places to work:
1. 99designs
It's not unusual … to bring your dog to work. Just ask Tom Jones (pictured above the headline). This little guy accompanies Lara Miller, director of public relations for Flippa.com – sister company to graphic design firm 99designs -- pretty much every day. Miller works out of 99design's San Francisco office.
As luck would have it, all of the people who work at 99design love him! In fact, a dog-friendly building was a major priority for 99design.
"Nothing says fun and friendly like some wagging tails and perked up puppy ears around the office," says Jeff Titterton, chief marketing officer at 99designs.
"The mood in the office is always better when he is here," Miller says of Mr. Jones.
2. SpareFoot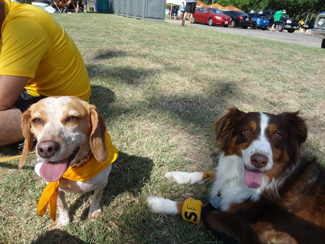 SpareFoot, a company that helps people find great deals on self-storage, is a fun, cool start-up. Dogs are welcome at the company's Austin, Texas, HQ.
It's a small company, at the moment, so only one dog is allowed to visit the office at a time.
"The dogs are like our local celebrities," says Ross Betts, public relations assistant at SpareFoot.
If the dog gets too disruptive, however, it's so-long puppy – but that hasn't happened yet, Betts says.   
3. Fueled
If you're looking for a dog-friendly mobile app design and development agency in New York City —look no further! Ryan Matzer runs Fueled, where employees are definitely happier with a dog around.
"Many employees volunteer to take their colleagues' dogs out for a walk and it's a great way to take a quick break during the day," he says.
To avoid problems with dog-unfriendly folks or allergies, they have an advance notice system via office-wide mailing list. Plus, there are two wings and one of them stays dog-free to accommodate dog-unfriendly or allergic folks.
[Guest posts make us happy! Want to contribute to CareerBliss? Check out our submission guidelines.]
4. Petplan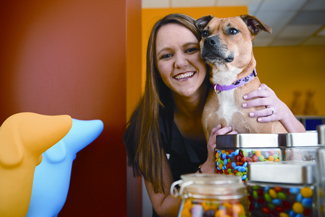 Petplan is a pet insurance company and, you guessed it, they are crazy about dogs in the office! Lots of folks who work at Petplan have pets at home, so bringing them to work seems pretty natural.
It helps employees to "not be worried about who is taking care of their pets back home and saves them money on walking or doggy daycare fees, which can really add up," says Bill Tierney on behalf of Petplan.
Their office has some pet precautions too.
"At Petplan, we have a "Pets at Work Pledge," that includes ground rules regarding pets in the office to help ensure that pets and people work together harmoniously," Ashton says.
Coalition Technologies is a Los Angeles- and Seattle-based Internet web design and marketing firm and they have an unofficial office dog! Whenever folks get tired of staring at computer screens, they can mosey on over to the accountant's office to pet her dog, Frida.
"I find that having the dog in the workplace is rarely a problem," says Joel Gross, founder of Coalition Technologies. "Frida has a little bed under the desk, and quite frequently travels around the office looking in on others."
As far as they know, no one's allergic to the dog, he says, "and it's very hard to dislike Frida."
6. Huge Inc.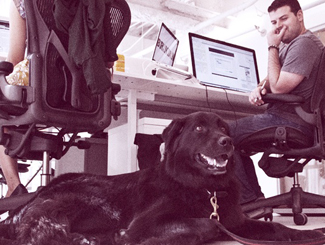 Dogs are huge at Huge Inc.! They're an amazing stress reliever, says Melissa Elza, HR Generalist at Huge's LA office.
There's lots of studies to prove this, but "the minute you're stressed out trying to meet a deadline and you reach down to pet your dog- you know it's true," she says.
In fact, they just moved from a dog-unfriendly temporary office space to one that allows dogs. "There was a palpable shift in the mood of the office the day they were allowed to come back," Elza says. "It was really striking."
Neff + Associates is a full service Branding/PR firm in Philadelphia and most of the staff (including the president) have dogs. Neither Neff nor associates bring their furry friends in everyday, but "the knowledge of the option being there is comforting," says Alexandra Walsh, PR account executive at Neff + Associates.
"I know that if my dog walker cancels or my dog seems particularly sad I am leaving for work that day that I can bring her into the office, no questions asked," Walsh says.
Fun fact: the design of the Neff + Associates office and hardwood floors help prevent dog-related allergies.
Don't see your dog-friendly company on our list? Comment below to enlighten the CareerBliss community!