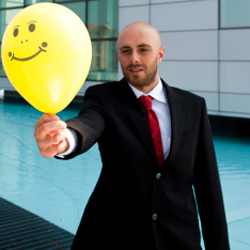 No doubt about it:  Every workplace from a classroom to a boardroom benefits from employees who consciously try to be great coworkers. Their positive attitude and willingness to do what they can for the common good make coming to work each day a better experience for all. But being the kind of person others want to have around isn't only beneficial for the team, it also can be to the individual's advantage.
"Coworkers with a good reputation will be the first people asked to pitch in on the exciting new project everyone is talking about," says Brad Karsh, president of JB Training Solutions -- a workplace training and employee development company based in Chicago. "The strongest contributors will be the first to be considered for promotions and the last to be considered for any cuts. By building a personal brand at work of being a good coworker, people become indispensable to the company brand."
Ready to up your standing with your colleagues? Try these things:
1.  Have their back.
Kerry Patterson, coauthor of the New York Times bestseller Crucial Conversations, notes that when he and his colleagues conducted focus groups and asked for the most important characteristic of a valued coworker, they repeatedly heard "someone who has my back."
"They said the best coworkers are those who are there when they need someone to pitch in and those who defend them in their absence," Patterson said. "These employees can be counted on to be advocates and work in their coworker's best interest."
2. Do what you say you will do -- and then some.
Being late to meetings or causing a chain-reaction of missed deadlines because you failed to deliver your piece angers others because it looks like you don't respect them or their time. Make sure you are doing your job so that they can do theirs.
"If you tell coworkers you'll have something to them by Tuesday, get it to them Monday afternoon," Karsh says. "Under-promise and over-deliver by doing exactly what you say you will do to brand yourself as a dependable and consistent team player."
3. Avoid office politics.
To be trusted by others, don't be a spreader of gossip and negativity. (People will wonder what you're saying about them behind their back.) "Remove yourself from any such situation and steer clear of workplace drama," Karsh notes.
4.  Share Your Knowledge.
Keeping information to yourself may seem like a way to have an individual advantage, but the reality is that sharing it for the good of others ups your standing as a leader. "A stellar coworker helps his peers by providing knowledge to help them in their career," Patterson says. "They teach their coworkers what they have learned, especially in areas where they are more skilled. This mentor mentality goes far in building a reputation as a good coworker."
5.  Have an open mind.
Instead of immediately being a naysayer when new ideas or processes are presented, be known as someone who gives everyone and everything a fair chance. Others will value this show of respect. "Push yourself to be innovative and open to diversity in all aspects of your work," Karsh recommends.
6. Say "thanks" and "congratulations."
Finally, remember that people want to feel appreciated. Acknowledge the contributions of others. As Karsh says, "A simple thank-you note doesn't cost a thing, and it makes a huge difference."
And while you're at it, remember to congratulate your colleague who landed a new client or the office secretary whose son just graduated from college. Recognize the success of others and there is a good chance they'll be eager to cheer you on, too!