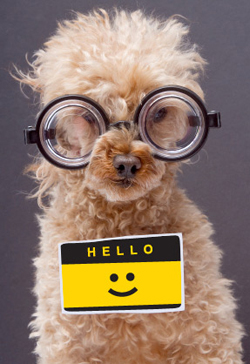 The high school prom. Do you remember yours? For every daydream you had of dancing the night away to your favorite Billy Idol song, wrapped in the arms of your crush, there was also the pre-prom nightmare of arriving late, of wearing the wrong clothes, of spending the night alone on the bench while the guy or gal of your dreams leaves hand-in-hand with somebody else.
Unless you're a die-hard social butterfly, networking events may inspire similar mixed feelings of both fear and anticipation in you.  In your mind's eye, you see yourself effortlessly breezing from group to group, waves of laughter following you as you regale your peers with tales of your company's climb to fame.
In reality, you find yourself leaving after several awkward hours, tail between your legs, the pack of business cards you had specially printed for the event unopened in your pocket.
What can you do to make sure that the time and money you put into attending professional networking events pays off?
No matter what your reasons for attending, you won't achieve a thing if you don't talk to people, and to do that, you must first break the ice. You may have the most amazing business plan in the world, but nobody will know it if you don't take that first step and make contact with them.
We asked industry experts for their best networking icebreakers.
1. Best Tip: Help Other Attendees Mingle
The best advice in life is to give what you want to receive. One of the best things to remember is that in most cases, just like the high school prom, everyone else will be feeling just as anxious and awkward as you.  By making a point of finding out what other attendees want to get out of the event, and helping them achieve this, you'll make better friends than if you just go hell-for-leather after your own goals.
Anna Keeve, program manager of Stalwart Communications, says that the easiest starting point is to simply ask the other person their name and what they do for a living.
"Make sure you first uncover their business and needs, to see how you can help them," says Keeve. "Genuine interest in learning about them, and having the mentality of how you can help them, will almost always come back to help you."
2. Bring Your Own Conversation Starter
"When we have groups meet, many of whom don't know each other, we ask them to add a conversation starter about themselves to their name tag," says Susan Dench, president of the Informed Women's Network. "It's amazing how quickly this gets the conversation going."
When this isn't possible, add one item to your wardrobe or briefcase that will give others something to immediately comment on. Whether you mix brightly colored shoes with a professional suit, carry a box of Girl Scout cookies to exchange for business cards, or wear a large pin with a funny picture of your cat on, your ice-breaking gesture will be appreciated by other attendees.
3. Put Others at Ease by Seeking Advice
The old saying goes that you have two ears but only one mouth, therefore you should listen more than you talk. Michelle Tillis Lederman, author of The 11 Laws of Likability, advises putting others at ease from the start by asking them for advice, and genuinely listening to their answers.
"Whether it's insight into a work project or an opinion on which new car to buy, when people can provide assistance, it makes them feel helpful," says Lederman. "Being able to give even general advice makes most people feel good and more prone to connecting to you."
4. Use Technology to Give You a Heads-Up
In these interconnected and socially wired times, there's no excuse for being in the dark about a person or company, even those you have yet to meet.
"Smart phones are lifesavers in more ways than one," says Theresa O'Neal, Brand Builder at New York's Bee Season Consulting. "If possible before approaching a booth, search for some quick tidbits and news about the company so you appear somewhat informed. It can also help you focus your inquiries and conversation."
5. Use Honesty to Break the Ice
"If you see a group of people that seem engaged in quality conversation, just approach them and say, well, you guys are certainly having more fun than the last group I was talking to," says Josh King, founder of Tinderbox Consulting. "The idea is to be memorable."
By being the one person brave enough to address the elephant in the room, you will break down the barriers of social awkwardness, and allow everyone to relax. People like other people who make them feel at ease, and your honesty will make you seem much more approachable.
6. And Finally … Don't Forget to Smile!
The best icebreaker is to simply smile. "Showing you are friendly and are welcoming of a conversation is a successful way to start a conversation," says Mike Byrnes, president of Byrnes Consulting. "It seems so simple, but often many people feel uncomfortable at networking events so they accidentally give off a bad vibe."
Try it in the street before the event. Pick someone and smile at them. Unless they're having a really bad day, you'll be surprised at how many people will smile back.
---
Natasha Rhodes is a careers expert and writer for CareerBliss, an online career community dedicated to helping people find happiness in the workplace. Check out CareerBliss for millions of job listings, company reviews, and salary information.