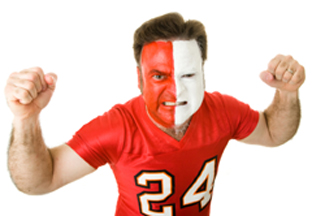 It's game time! Fantasy Football players are scrambling to set their lineups, scope out sleepers and identify busts and study Week 1 matchups.
No idea what that means … or don't care? You might want to think again.
Fantasy football is one of the most popular virtual sporting events in offices across the nation. And it's more than just a game. It's a wide open window of opportunity to engage with your colleagues on a whole another level.
If you think Fantasy Footballers at work are just in it for a chance to win bragging rights — you're highly mistaken! Simply joining in on this huge event with your colleagues can set you up for a career breakout this season! Here's how:
1. It Gives You Something Else to Talk About
"Man, last week the Bears defense really put a stop to the Chiefs." "They sacked the quarterback eight times! "Who are you starting this week?"
The potential conversations are endless.
"Even though you're technically competing against each other in a league, you're also in it together, " says  Jen Mueller, America's Expert Talker. "You'll be able to commiserate after a tough loss and celebrate after a particularly good week."
Of course, friendly competition should be just that — friendly. David Lewis, CEO & President of Operations Inc. warns against getting hyper-competitive.
"I've been in environments where two coworkers have a breakdown in their relationship over a lopsided trade or one party's refusal to make a trade, creating animosity that crosses from two game competitors over into their working relationship," Lewis says.
2. You Will Open Up Opportunities for Networking
Since most leagues are free-for-all, you have the opportunity to interact with departments and executives that you might never have before.
"You end up with C-level folks interacting with mid-level managers and people making 10 dollars an hour; they're all on the same level," says Michael Cohen, international law firm Duane Morris. "That interaction can be great for company culture." However, Cohen adds that employers need to be cautious before sanctioning an intra-office fantasy football league.
3. It's Fun, if you Really Get into It
There's a reason why more than 27 million Americans get super amped up when Fantasy Football season rolls around—it's fun! And it breaks the monotony of the day-to-day work-related conversations.
"I feel like people are generally happier and have more fun being around each other when they can bond about things other than client work," says Mike Harris, co-founder of Uproar PR firm.
5. It Won't Impact Your Productivity that Much
Last year, outplacing company Challenger, Gray & Christmas, Inc. did a survey on how distracting Fantasy Football is on productivity and found that it's really not that bad.
"On a scale of one to 10, where one represented no influence on productivity, nearly 70 percent of players chose four or below," the Los Angeles Times reported.
This was the case for Allison+Partners PR agency -- with three full leagues playing in their offices, "surprisingly enough, we didn't see any changes in productivity," says Jennie Peters, vice president of the agency. "And trades usually happened at the end of the day or after work."
6. Women, it's your Chance to Level the Playing Field
If you feel like you're working in a Boy's Club, why not join 'em? Shying away from this male-dominated sport also means missing out on Nos. 1 through 3. Take it from Charlotte Gurney, a production assistant for sports broadcasting company Perform, who who recently blew away the men in her office by beating them all in the Euro Cup 2012 fantasy league.
"I found myself having to bat off a lot of criticism (light-heartedly). But my colleague (the only other female to participate) and I finished first and third respectively and it soon shut them up!"
If you're working with some incredibly passionate, opinionated guys who think trash talking is half the fun, "take it in stride, this is not a personal attack it's just part of the way they communicate and express their passion," Mueller says.