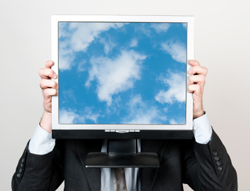 Your job search is in full throttle. By now you have at least six or seven versions of your tailored resumes, a dozen cover letters for each position and at least one dream company you've
researched to death—all buried in some files in your computer. This can get really messy, really fast.
If only there was a way to organize, consolidate and conveniently access all of it! Cue: the Cloud.
It seems like everyone's talking about moving towards "Cloud" computing, which means (in the most basic definition) moving information technology from one direct connection to the
much more convenient and accessible web.
If you think the Cloud is only revolutionary for IT professionals—you're highly mistaken! There are tons of awesome Cloud apps that can help make anyone's job search easier by saving you
time and boosting your productivity:
1.
Google Drive
Say you have a presentation at work, your interview itinerary on your phone and resumes saved on your home computer. Google Drive lets you sync all of your devices – even larger sizes.
You get the first 5 GB of storage free and then there's a small monthly fee for more space. All you have to do is drag and drop it into your Google Drive. There are several Cloud storage tools like Google Drive, including Apple iCloud, Microsoft Sky Drive, Amazon Cloud, and Dropbox. Check out this "Cloud Storage Faceoff" by LifeHacker to figure out which one's right for you.
2.
Evernote
So you're browsing along exploring different company websites, job listings and bookmarking descriptions that sounds intriguing. Rather than doing it on one computer, Evernote lets you collect clips of data from websites you're reading. You can categorize these clips and it'll automatically sync to the cloud—letting you access it from anywhere. So you'll never lose an awesome job post!
3.
Hojoki
Hojoki is for all of you busy bees that just can't find the time to sit down and job search. Here's the coolest part of Hojoki: It consolidates all of your Cloud or Internet-based apps (Google Drive, Dropbox, Evernote, Google Reader, Twitter etc.) and puts it altogether in one newsfeed!
You'll never miss a beat on new job postings or interview requests because Hojoki even offers push notification and a daily catch-up email, with a summary of anything you might have missed in your apps.
4.
YouSendit
Got a large portfolio or report you want to share with prospective employers? Then you need YouSendit – it's a cost-effective way to transfer huge files safely. It even offers online tracking and other security features. After all, when you're unleashing important, huge files into the Cloud, you want to make sure it's secure.
There's a free "lite" version of the app, but the Pro Plus is about $15 per month or $150 per year. It's worth the investment if you're planning on sending or sharing precious large files.
5.
GotoMeeting
This is the ultimate web conferencing tool. You can create online meetings instantly and even collaborate with small groups. Another idea is to create instant online demos (like one that demos why you're an amazing candidate!). To join a meeting, all you have to do is type in the meeting ID provided by the organizer and—voila!—you're in a virtual meeting instantly.
Since this isn't a free app, GoToMeeting is likely most useful for those of you who are looking to freelance or start a side gig. For job seekers simply looking to conduct information or job interviews online, there are web-based resources (like Skype or Google Hangout) that can host online interviews for free.
6.
Zoho
Zoho is kind of like an alternative to Google's docs, office suite, mail, chat, etc. It's a whole new Zoho-world! But it has some added cool business features.
In the Zoho Marketplace, they offer pre-packaged databases specifically designed for daily needs—even job searching. For instance, their Employment Contact Manager allows you to keep track of job leads, contacts, applications and more.
All you have to do is type in all of the above and it'll generate a report for you to see where you're at and who you need to follow up with. This is a must for those of you dealing with bazillion applications!