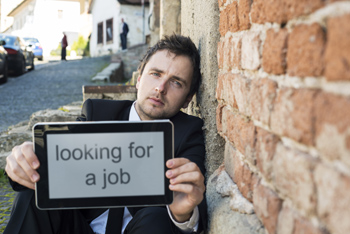 "How's the job search going?"
This seemingly innocuous question is an inevitability for most, if not all, of the 11.7 million unemployed folks in America. The questions shows up everywhere: dinner with your parents, small talk at get-togethers and even networking events with strangers.
When faced with this question, you can answer by going down one of two paths: The easy path, where you simply mutter an evasive response (It's going alright) and then change the topic (How about those Kings?).
Or you can go down a more difficult, but productive path, which can potentially turn dull jibber jabber into a great, new job opportunity.
We encourage the latter. "Remember every person you know, and every person you meet is a potential employer, or knows a potential employer," says Carisa Miklusak, CEO of TMEDIA.
If you want to make a great impression, don't say:
1. "I'm really open to anything."
It sounds too unfocused and desperate. "Instead, take the time to explore the type of company and position that you are seeking and then ask for relevant intros!" says Michelle Proehl, Slate Advisers.
Mary Westropp, Vice President for Communications at New Directions offers a much more proactive answer:
I'm giving it everything I got. I'm on the lookout to meet folks in [insert your field of interest].
 2. "When I get a job, you'll know it."
This one is just a bit closed off and rude. Another, nicer alternative: "Well, it's taken longer than I expected. In the meantime, I've been volunteering and building my resume." Miklusak suggests.
3. "Would you be able to help me find a job?"
Asking anyone for a job puts them in an awkward position – even your acquaintance in HR, she may not really have any influence over new hires.
A less awkward route is to be honest about your position ("I've been searching daily, and I haven't found the right opportunity yet"). And then follow it up with: "How are you doing? Is there anything I can do to help you?" suggests career coach Lavie Margolin. Be remembered by your thoughtfulness rather than awkwardness.
4. "It's not going very well"
This response may be honest, but it makes it seem like you're hopeless.
To sprinkle a little sunshine in your tone, talk about a recent milestone you've achieved. For instance, if you "arranged an informational interview at one of your target companies," says Proehl. Or, you "advanced to a second round interview at another." It can even be something small, like "I've been attending networking events once a week."
5. "I'm not really sure what I want to do anymore"
The problem with this answer is that it's a combination of No. 1 and No.4. If you really don't know what you want to do, talk about signs of progress.
You can be honest and explain how you're clarifying your goals. "For instance, when you met with a product manager at a tech startup, you realized that you really liked the startup environment, but being an engineering manager was actually more up your alley," Proehl says.
Learn More About Networking:
You Need These 3 People in Your Network
The Anti-Schmooze Guide to Networking