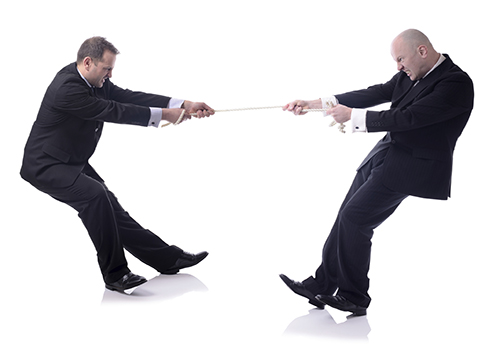 It takes unwavering confidence and plenty of tact to deal with cutthroat coworkers.
You know the type: stealing credit, dominating projects or making subtle, snarky comments. Dealing with disrespectful folks on a daily basis can be demoralizing.
If this sounds like your situation, you are far from alone!
"Ninety-six percent of workers say they have experienced uncivil behavior and 98 percent have witnessed it, according to a continuing study by Georgetown University and Thunderbird School of Global Management of nearly 3,000 participants," according to the Wall Street Journal.
So...I think it's safe to say this likely happens everywhere! Some folks are just naturally hypercompetitive. To help us deal with our cutthroat coworkers, I spoke with
Shawn Achor
, founder of Good Think Inc, a positive psychology based consulting firm, and author of
The Happiness Advantage 
and 
Before Happiness. 
He offered several tactful measures you can take to prevent your cut-throat coworker from hindering your morale and progress. Read on!
1. Kill 'em with Kindness
Smiling is the most disarming thing you can do when dealing with nasty coworkers. "We rarely fully understand people at work," Achor says. "Work bullies, those who seem most cutthroat, are often really unhappy in their personal lives."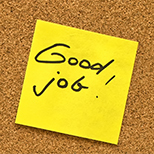 Try and "be compassionate and remember that the greatest long-term competitive advantage in the modern economy is a positive and engaged brain," Achor says.
Whenever you can, smile and try to be kind – it's very disarming to troubled bullies.
2. Keep Your Work on Record
To prevent professional sabotaging, stay one step ahead of your competitive colleague. For instance, if there's a presentation coming up, be sure to document your contribution, double check your name is on the byline – think ahead and cover all your bases.
On that note: "Never say or write anything in a treacherous work environment that you wouldn't want publicized," says Dr. Janet Scarborough Civitelli, workplace psychologist at Vocation Village. "The easiest way for coworkers to sabotage you would be to reveal your secrets."
3. Don't Compare or Get Even
Disengage with negative behavior (let it slide off you like you're Teflon!). "The easiest way to be unhappy at work is to engage in comparison. Be unaffected and change the social script by letting them receive awkward silence every time they try to engage in that fashion," Achor suggests. Then, refer to No. 1.
4. Could You Benefit from Working with Him?
Take a moment to zoom out of the situation and think about it objectively. Achor suggest asking yourself: is he truly a threat to you or could you actually learn a thing or two from someone who is opportunistic?
"If they are a real threat, avoid. But if not, then while you work with them, work on them," Achor says. "An enemy today is not necessarily an enemy tomorrow."
[How to Turn Fierce Competition into Fruitful Collaboration]
5. In the End, You Will Succeed Anyway
You might not have the same cut-throat ambition as your hypercompetitive coworker – but it doesn't mean you will fall behind.
If you focus on exceeding your personal benchmarks and indispensably help out without falling behind on your own work, chances are that you will succeed.
In fact, in his extensive research on workplace happiness and progress, Achor found that people who provide social support at work, those who are generous (work altruists) are 40 percent more likely to receive a promotion than their colleagues," he says. "It pays to be kind." Quite literally!
Remember not to become a doormat. "You should give, but do it strategically," he says. Following point No.1-4 is a fantastic strategy to maintain strong values and win!