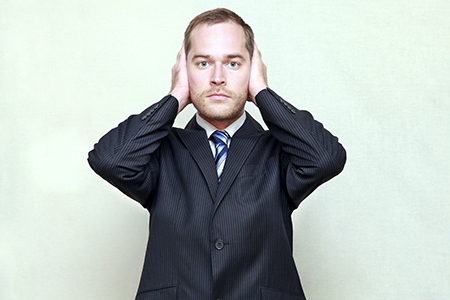 Chatty coworkers may be one reason why working from home has proven to boost productivity.
At least that was the case in one study by Stanford in which researchers studied 16,000 employees at a Chinese travel agency.
"Home working led to a 13 percent performance increase, of which about nine percent was from working more minutes per shift (fewer breaks and sick-days) and four percent from more calls per minute (attributed to a quieter working environment)," according to the study published here.
Still, working from home doesn't deter all chatty workers (I'm looking at you instant messengers!). Simply setting your status to "busy" or being slow to respond are easy remedies for online chit chatters.
This post is for all of you folks confined in a small space with colleagues who have the gift of relentless gab. Here's how to deal with cubicle windbags:
1. Create a Great Defense
Think like an NFL coach: "If you hear the Cubicle Invader approaching, make your area unwelcoming. Place your purse, your briefcase, your jacket or stack of papers on the extra chair or on the available space on your desk, so they can't park on it for hours," says Richie Frieman in Reply All…And Other Ways to Tank Your Career.
2. "Sorry, I Have a Call in a Few Minutes"
Freiman offers this great way to deter any long-winded chattiness that might have been coming your way.
Really, though, any sort of mention of being "busy" or "swamped" will signal the red light to your office chatterbox.
Follow it up with a very vague "I'll catch up with you later."
3. Give 'Em Some Work to Do
If he has time to chat, he probably has time to do some extra work!
The next time your chatty coworker wants to take some of your time, ask him to do you a solid favor and proof read your report. If he says yes, score! If he says no because he's busy, then chances are he'll get back to work. Done and done!
4. Set a Date Outside of Work
"Want to grab coffee after work?" could be a great way to reduce some of your precious productivity time while maintaining a relationship you enjoy.
This way "sets up your office parameters, letting the person know that you're free to chat after work, but not during," says April Masini, advice columnist. Saying yes to chitchat when you're busy means you're being way too nice for your own good.
5. See Him Coming? Stand Up
"This reduces the likelihood that they will sit down and occupy your office [or cubicle space] for longer than you want," says Brian Brandt of Core Insights.
Brandt also offers a great suggestion: "Keep working, glance up briefly and state that you're working on a project or deadline," he says.
In other words, your body language will signal that you really can't chat. On the flip side, if you spun your chair and faced the chatty coworker, you're giving him a license to talk and talk and talk!
If none of the above seem to work...
It's time to be upfront with your colleague. It may be a hard conversation to have, but -- don't worry -- there is a way to speak up without being disrespectful.
"Those who do best at navigating crucial conversations start by assuring their co-worker of their positive intentions and respect for them," says Joseph Grenny, co-author of the New York Times best-seller Crucial Conversations. "After creating a safe environment, share the facts of the issue in a non-accusatory manner, tentatively share their concerns, and invite dialogue on their coworker's part."