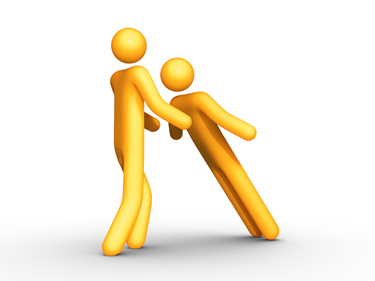 Building trust between yourself and your employer is a key factor in not only keeping your job, but in getting promoted and reaping the perks and benefits of a long term position. Establishing yourself as an employee who can be trusted – and, more importantly, as a person who can be trusted -- can result in employers holding you in higher regard than an employee who has more seniority or even more qualifications.
There are many ways to build trust in the workplace. Here are 5 easy steps:
1. Practice Office Altruism
Establishing that you really do care about company and team goals, not just self-serving goals, is a great way to build trust with both coworkers and management. Self-serving agendas are easily seen through and can result in an atmosphere of distrust forming around even the most hardworking employees. When one person tries to get ahead at the expense of others, usually by shutting coworkers out to focus on personal projects, the whole organization suffers. As a rule of thumb at work: think "we," not "me."
2. Be Honest on All Fronts
This may be the easiest and most bulletproof way to build trust, both at work and in life. Tell the truth, always. "Stretching the truth" or telling tiny, no-one-will-notice white lies is still not telling the truth. Provide honest information and honest answers when asked, even when it's not to your advantage. And be honest with yourself in your work performance, too. Don't take extra breaks, stretch your lunch hour longer than you should, inflate expense reports or spend half the day on Facebook just because you think no one's watching you. All of these things will get noticed in the end -- even if no one says a word.
3. Be Consistent
Being a team player and an honest person only works to build trust if you are consistent at it, in both your words and behavior. Do what you say you will do, and if you can't fulfill what you promised, be honest about why you can't (or didn't) follow through on your promises. Also, be consistent in doing the right thing. If you can make decisions and actions that are for the betterment of the company, or a specific individual, even if it requires some self-sacrifice on your end - do it. Be consistent in your reliability and as a person of integrity. This will create respect, and respect is one of the cornerstones of trust.
4. Treat Co-Workers as Equals
Regardless of what position you hold, make sure to treat all employees around you equally. From reception clerks to SVPs, newbies to long-termers, every employee holds an important and unique job at your company and should be treated as such. Make sure to address each of your coworkers by name and try to learn the names of their spouses and children -- not to be nosey, but to make genuine conversation when time permits and to gain their respect.
Also, establish yourself company-wide as a helpful person who can be relied on in a jam. Is the receptionist busy today and looking stressed? Offer to deliver some mail for him or make a run to the post office to pick up extra supplies. Is a team member running behind on their presentation? Offer to run copies, prep the conference room or anything that would make their job easier. Doing one small thing per day to help others builds respect and trust.
5. Develop and Use Good Judgment
In building trust, it's important to know what to do and what not to do, what to share and what not to share -- using your good judgment, rather than going by the book. Protect information when you need to, disclose things when you judge them to be appropriate, and don't take sides on anything that you don't need to be involved in. In each of these scenarios you may be skating on thin ice, so pick your battles and know when to take a stand for an individual who deserves your loyalty, and when to take the fall in the company's name. If you live by integrity and honesty, using good judgment will become second nature.
Building trust in the workplace is a daily task that is its own reward, both personally and professionally.