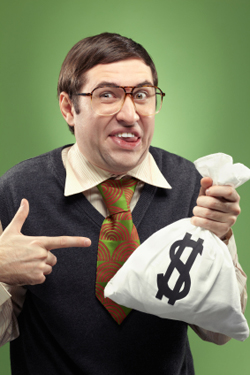 It is easy to go into salary negotiations with a "me vs. them" attitude. However, treating talks as a collaborative process in which both sides are interested in a fair resolution can be more effective than demands and ultimatums.
You got an offer because you demonstrated your ability to fulfill the employer's needs. Now establish why the compensation you desire is justified by using these five tactics:
1.  Doing Homework
Knowing the going rate for your type of work is imperative. Without this information, you may sell yourself short or shoot so high that the hirer will think you're clueless.
"Included in the research you conduct for the interview, you should also look into the salary ranges for the position," says Andrea St. James, career counselor for the College of Arts & Sciences at Western New England University in Springfield, Mass. "You should be prepared to know what the average starting salary is for that position, in that specific location and for someone with your experience level."
Consult professional organizations, people in your network and CareerBliss' database of millions of salaries to get a good idea of what you're worth.
2.  Proving Your Worth
When you're asking for more, the employer needs to be able to envision what he's going to get for the extra money. Spell out your value – how you will increase productivity, make the company money, save time or require less hand-holding than others.
"When trying to prove your worth, find out what the company's issues are and then see how you could help solve them," says David Couper, a career coach and author of Outsiders on the Inside: How to Create a Winning Career . . . Even When You Don't Fit In. "Make sure you explain how you can measure the results."
As an example, Couper cites a manager in a hospital who asked for 10 percent more based on his proven ability to improve processes so that patients got seen faster.
"He knew that the hospital wanted to improve patient satisfaction, and one big issue was how long they had to wait."
3.  Building a Relationship
Just as you worked to establish rapport during the interview, keep making connections as you talk about compensation. Enthusiasm to learn more about how you would fit into the company's culture may strengthen the hirer's desire to have you aboard.
"Understand what's needed to succeed in the job, not only what's advertised in the job description," says Sara LaForest, co-founder of Kubica LaForest Consulting (a management consulting and performance improvement company serving clients nationwide).
"This is developed through asking non-threatening but interesting questions about what the interviewer perceives as the key functions and responsibilities of the role, and what it is they expect as outcomes over the next year. While asking these questions, listening, and sincerely yet strongly responding to their questions, you are building relationships with each person you meet."
4.  Asking for More
No employer is going to present a number and then ask if you want more. You need to have the confidence to initiate the conversation.
"If the salary is not acceptable or you think you could do better, tell them you will think about it and get back to them," LaForest says. "If you are interviewing at other places, let them know you are also looking at other opportunities – just don't lie if that's not the case. When you come back, honestly tell them you were looking for a better compensation package and why. Keep it reasonable for the industry and the position -- remember, each time you open your mouth you are either adding or removing value to your position."
5.  Thinking beyond Initial Salary
If you feel that you've reached a standstill in terms of starting salary, it might pay to look for other ways to increase your overall package. To be effective, it helps if what you are asking for has some bearing on the position and supports your ability to be successful. Don't just ask for a laptop – show how receiving one would help increase productivity, or present what the company stands to gain by enrolling you in a professional development class.
Couper notes that another strategy is to look for future pay raises rather than a bigger number up front. "Negotiate step increases based on you meeting goals, and have the employer put them in writing." An early performance review or a bonus after completing certain objectives provides you the opportunity to earn the increase you want while giving the company time to see that you're worth it.
Ready to negotiate your compensation? First you need a job. CareerBliss has millions of jobs.