By Irene Kotov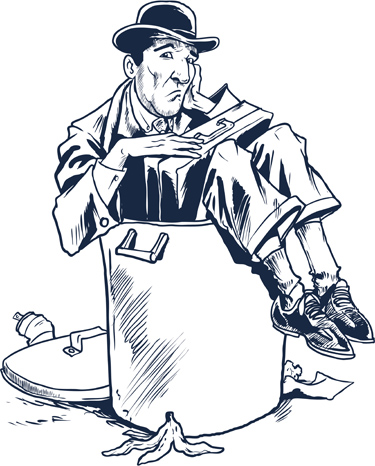 There's nothing worse than spending your days behind a computer, browsing job websites, clicking the "Apply" button and getting the dreaded "Thank you for your interest, but ..." emails in return (if you get any response at all).
After you have done it for a while it's easy to start blaming "the weak job market" and "the incompetent recruiters" for your lack of success.
Thing is, if you've applied for a few jobs and haven't received a call back, it could be time to face the hard fact.
Sure, the market may be depressed, and yes - not all recruiters understand the nuances the position they're selling, but there's one other common denominator in the equation which needs to be addressed - you.
Or, more precisely in this stage of your job search, your resume.
Who Are Your Competitors?
When I worked as a human resources manager, I would see a few hundred resumes come in for each position that I needed to fill.
If you think that's a lot of competition, you're right. The good news, however, is that most of your competition isn't very good.
I'd put over 70 percent of the resumes into a trash can while I was flicking through them in the initial, cursory screening round.
I decided to write this article because I wanted to make sure that your resume doesn't get filtered out during those initial stages, before you get a chance to speak to a recruiter and tell them about yourself.
I'd like to share the 5 most common resume mistakes which typically jeopardize success of otherwise perfectly qualified people like you.
1. Exact Job Title
Think of the recruiter who gets your resume as a machine. Think Google.
Do not be fooled into thinking that they're interested in deeply understanding who you are as a human being at that point in time. During that initial screen they operate in a very black and white, robotic kind of fashion.
They will open your resume and will spend about a millisecond scanning it for the relevant search term - the title of the position they must fill. If the job title listed on your resume is not exactly (or very closely) matching to the one listed in their job ad, your resume will go into trash.
2. Powerful Brand
Your resume is much more than just a list of your achievements, results and abilities. It's your opportunity to communicate what you stand for. In other words, your brand.
Nike might sell shoes, but their brand stands for celebration of athletics. Similarly, you might want to "sell" your skills to a prospective employer, which is great. But what bigger context exists in your life than exchange of skills for money? What kind of mission are you on in life, which you'll bring with you to your job?
3. Do Not Cut Corners
You might have a temptation to plagiarize a part of your resume from one you find on the Internet. Here's my take on it: don't.
There are two reasons for this. First, very often recruiters will copy a few sentences from your resume and run them through the search engines to see if it's "inspired" by another.
You really don't want to be caught out with a fake resume. Not only is it unethical, it's also going to get you blacklisted with the recruiter (or the entire recruitment firm) that catches you.
The second reason is a lot simpler - most example resumes you see floating online are at what I call "Toyota" level of competency. They're not bad - they're straightforward, logical and inoffensive. But what was the last time you were stuck in traffic and got excited about a Toyota next to you?
The aim of your resume is to make you stand out, not blend in with the masses.
4. Don't Be Boring
Does your resume contain an endless list of your duties and responsibilities which you tried to spice up by adding a dash of fancy corporate language?
Hang your head in shame. You've just put your recruiter to sleep.
The recruiter wants to know about clearly defined, quantifiable examples of your successes. For example:
"Was responsible for updating Twitter, Facebook and other social media platforms on a daily basis, in adherence to company social media policies."
vs.
"Implemented a successful social media campaign across 5 platforms, increasing engagement by 48 percent and revenue by 19 percent."
Who would you hire?
5. Think Like A Newspaper Editor
Newspapers (and now most online publishers) have been in the publishing game for long enough to know that stuff at the very top gets read.
Editors use this "above the fold" part to display critical information which they hope will entice passers-by, draw them in and make them read the rest of the story that's buried inside the newspaper.
Structure your resume in a way which shows off your selling points at the very top. Brian Clark from Copyblogger once said that the only purpose of each sentence is to make the reader read the next sentence
Adopt that kind of strict, almost ruthless mindset when checking your resume. Is the best stuff at the top? Does it grab your attention? Is there any fluff which can be stripped away?
---

Irene Kotov helps senior executives get jobs in exciting companies. You can catch up with her on Google+.