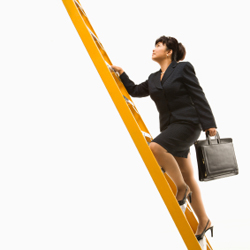 If you're feeling hopelessly bored at work — and confident that you've mastered your current position —it's time to turn it up a notch and show your boss that you're deserving of a promotion.
Of course, it isn't enough just to do your job or even do your job well. A viable candidate exceeds the expectations. In order to make yourself promotable, there's a host of practical things you can do to stand out
1. Do the Job You Seek
"If there is an official description of the position to which you are trying to get promoted, get a copy of it and perform at that level as though you were already in the position," Heather Huhman, career expert, founder and president of Come Recommended suggested.
If you go above and beyond your daily tasks and actually make measurable achievements for the position you're vying, "you can almost assure a promotion," she said.
2. Lead and Communicate
Huhman makes the excellent point that exhibiting leadership skills in your area is one way to show the higher ups that you've really mastered the skill.
"Skills such as teaching others, being able to plan ahead, and efficient communication are necessary for career development," Huhman said.
Seize any opportunity that presents itself in which you must explain your tasks — and make sure you're effective and engaging. Take the initiative to communicate ideas that would maximize efficiency.
3. Get Positive Feedback
If you're successfully doing Nos. 1 and 2, then getting positive feedback should be a piece of pie — in fact, it should be a given. You're simply not promotable if negative comments like "needs improvement" are appearing in your performance reviews.
Make sure you bring up your desire for a promotion and career path during each evaluation as well. Be prepared to discuss your goals – and what you're doing to achieve them.
4. Be Routinely Reliable
Sounds like an obvious one, right? But unreliability is the No. 1, highest rated career-limiting habit, according to a study conducted by Kerry Patterson, co-author of the
New York Times
best-seller
Change Anything: The New Science of Personal Success?
Patterson's spokesperson mentioned that "nearly half of bosses report that addressing employees' glaring bad habit is three times more important than increasing their technical skills," according to Patterson's research.
Makes sense — what good are your technical skills if you can't follow through with what you say you will? So, make it a point to follow through.
5. When You Feel Ready, Ask for It
Asking for a promotion is no light matter. Be ready to demonstrate that you deserve the promotion. If your boss demurs, ask him what you need to do to get promoted and ask him for a realistic timeline for achieving that goal.
If your boss is reluctant to discuss these things – blows you off or just gives you lip service -- it could be an indication that you're going to be stuck in your current position for the foreseeable future, no matter how high your level of performance. In a case like that, you may want to consider looking for a new job with more opportunities for advancement.
Before you make any drastic decisions, check-in with yourself on a regular basis while working towards your promotion, suggests Shelly Gorman, director of career development at MBA@UNC, an online MBA program offered through UNC's Kenan-Flagler business school.
"Ask yourself questions like: 'Am I fully utilizing my expertise and highlighting my skills?' or 'What is my end goal, and am I on track to realize this?'"
If you're able to confidently answer these questions and genuinely feel you deserve higher responsibilities, then make your case by pointing to solid evidence of your accomplishments and positive feedback from roughly the last six months.