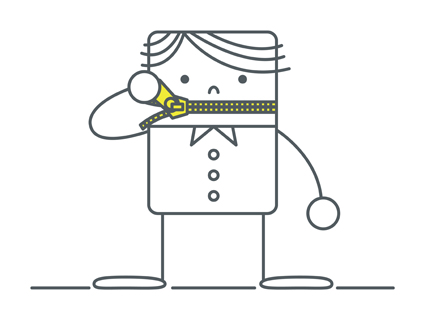 Your resume has been designed to perfection. Your cover letter is a work of art. You're wearing your lucky interview suit and are ready to meet with the hiring manger. But one wrong slip of the tongue can bring the whole thing crumbling down.
Here are five things to never say during your job interview:
"I can't stand my current boss"
Let's say you're still gainfully employed but looking to make a career move. Even if your present boss is micromanaging, mean and disrespectful, don't mention it during the interview. Ditto for dishing about your catty coworkers and your company's questionable ethics.
While it might all be true, painting your current job in a negative light will put a big black mark on your job application. Your potential boss may wonder whether you'll be a problematic employee should he hire you.
Instead, focus on the positive parts of your present position but offer other reasons for your job search. You can mention that you're interested in working for this particular company, or that you're looking to advance in your career, which may not be an option at your job now. After all, you never know whether your potential boss is golfing buddies with your current boss and will dish the dirt about you.
"How much are you paying?"
You scanned the entire job description but never once was there a mention of how much the company was paying. As much as you may be tempted to ask what the salary is, hold back. The point of the interview is to prove that you are qualified for the position, and not focused on what you'll be receiving instead. Once you are officially offered the job, then you can ask what the salary is, but not before. Asking ahead of time shows that you are looking to make money, and not a mark, with the company.
"I'm not familiar with your company"
You may never have heard of the company you have an interview with prior to reading the job ad and being called in for an interview. That shouldn't stop you, though, from doing your due diligence and finding out all you'll need to know prior to your job interview.
When you walk in to meet with your interviewer, you should know some of the history of the company (including major milestones, such as buy-outs or mergers), what the company really does, how its work benefits society and the key players within the company. Your knowledge on the company's culture may also be tested, so be prepared to answer any questions confidently.
"I'd like to telecommute"
Sure, you'd like to work from home at least part of the time but asking for it during an interview is one definite way to not get it. A remote job is still considered a workplace perk, and as such, you may not be told about the job's flexible schedule (if it even has one) until you're offered the position. Asking a potential boss for the option to work remotely during the initial interview illustrates to him that you are more concerned about your own needs than those of the job you're applying for. So sit tight and wait to see if you're offered the position. If you are (and the job doesn't come with a flex schedule) you can always ask for it during the negotiations process.
"I don't have an ideal salary in mind"
Let's say you've been job searching for a long time. At this point, you're desperate and you're willing to take any job at any price. But by not having a clear idea of what you'd like your salary to be, you open up a potential can of worms with your potential boss.
Not only could he offer you the lowest starting pay, but it may seem to him that you don't know your own worth. Those who are confident in their workplace abilities and value themselves will know how much to ask for, and won't be afraid to put a price on the table. Contrary to popular belief, employers prefer to know what your salary requirements are. If the company is truly interested in you, they won't be put off by your price; instead they will negotiate with you so they can hire you as their newest employee.
It's easy to let the wrong thing slip out during an interview. If you are careful about what you say—and what you ask for—you will have an interview that will hopefully land you the job of your dreams.
---
This post was contributed by Jennifer Parris of FlexJobs, the leading site for telecommuting and flexible job listings.