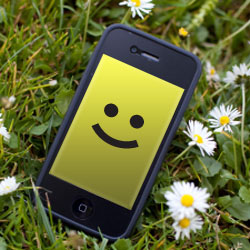 Smartphone addiction is powerful and rampant – and it's robbing you of precious work time! Some psychology experts say resisting a new text or notification can be more difficult than resisting nicotine cravings. David Sack, M.D., and CEO of Promises Treatment Centers in Malibu and LA, explains that one way to measure addiction is to see how hard it is to stop, and nicotine is among the most addicting substances known to man.
And yet, "In today's smoke-free work environments many people out of necessity go 2 to 3 hours without a cigarette, he says, "while most smartphone 'addicts' would struggle to go more than a minute."
Yikes!
If nicotine is what makes cigarettes addictive, what's the X factor in smart phones that has taken control of us? John Kenny, senior vice president of planning at Draftfcb, says part of it is what he calls the "Me-Here-Now" phenomenon, according to a blog post he wrote for Mobile Marketer.
In other words, we all want information here and now, and smart phones satisfy this craving 24/7 right at our fingertips. Kenny says: "psychologists have long known that the brain has a weakness when it comes to here and now."
All this sound a little too familiar? In order to wipe out this time-consuming habit, consider the following smartphone rehab methods:
1. First Step: Admitting you have a Problem
Ever find yourself thinking I probably shouldn't be and I think I may be addicted? Ann Latham, president of Uncommon Clarity, says it's time to pinpoint your problem.
If you're a little unsure, Latham suggests a super simple way to help gauge your addiction.
"Put the smart phone on a piece of paper next to a pen and jot down the time when you pick it up and the time when you set it down," Latham says. "At the end of the day, you will know the size of the problem. Then you need to decide if you care."
2. Get to the Source of any Anxiety or Fatigue
Smartphone addiction could be replacing smoking as the number one way to bind your anxiety, says Stephanie Moulton Sarkis PhD.
"That is what all addictions do, bind your anxiety," Sarkis says. "So the solution is to reduce your anxiety so you can sit still and be with yourself and others instead of engaging in highly anxious behaviors."
Likewise, when you are fatigued, it's easier to wander off and play with your phone.
"Get a good night's rest to help your brain shut off," Sarkis says. Also, try not to use a computer or smartphone right before you hit the hay because a study by the National Sleep Foundation found that this can lead to sleep loss.
3. Leave it at Home for a Day
The truth is you don't really need your personal smartphone at work. If there's an emergency and your wife or kids need to contact you, just make sure your family has your work phone and address. Of course, it is way easier said than done.
To make the transition a little easier, Kieran Flores, marketing manager at A Writer, an academic assistance company suggests you, "Visualize a day without having the smart phone. Engage in the day's activities without and think what you would undertake without it."
Then, go for it!
4. The Predictable Time Off (PTO) Method
Another option is to take some PTO — in other words, completely disconnect from your devices for a few hours every week. According to Leslie Perlow, Matsushita Professor of Leadership at Harvard Business School, this will definitely boost productivity in the workplace.
She's also the author of Sleeping With Your Smartphone, which includes a full account of her experiments in which employees work together to test the PTO method over six years. In it, she finds that employees who disconnected from smartphones weekly were much more engaging, collaborative and efficient.
According to her findings, 72 percent of PTO experimenters said they were satisfied with their jobs compared to 52 percent who were constantly connected. Let your friends and family know that you're not going to be reachable for a few hours every Tuesday and sit back and relax hands free!
5. The 7-Day Smartphone Detox
Colin Kelly, a communications specialist also known as "gadget guy" based in Scotland, did this experiment for a Scottish TV show called 'The Hour' and swears by it. Kelly actually went through a 7-day gadget detox and had no access to technology at all.
"My smartphone, games console, MP3 player, even TV remote was all locked in an empty fish tank with a lock and chain around it."
On the show, he only lasted three days.
But, Kelly told us he attempted the challenge again on his own and made it the second time around. The first few days were hard — but by the Day 4, he realized he "had LOADS more time and was becoming much more productive and having a more enjoyable life!"
It's worth a shot! Think you're up for the challenge?