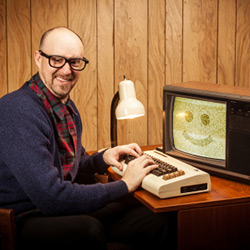 These days, a job seeker has to stand out. And in a difficult job market, a strong resume just isn't enough.
One option for getting an edge on the competition is to build a personal website.
According to The Multi-Generational Job Search Study by Millennial Branding, less than 15 percent of job-seekers have their own professional website. The study shows only 14 percent of Baby Boomers and 13 percent of Gen Y and Gen X have a website or online portfolio, which means job seekers of any age can use this tactic to distinguish themselves from their peers.
Here's how having your own website can help your job search:
1. Helps employers come to you
Recruiters can't reach out to you if they can't find you. Building a website makes it easier to be found by a wider array of potential employers.
By creating a website, you can also influence your personal search results. Companies often search for an applicant before an interview, so a personal website can help lead employers to a positive, work-driven search result rather than an old Myspace profile.
2. A personal website allows you to show instead of tell
Resumes and job applications tell potential employers about your experience and skill-sets. A personal website allows you to show your talents instead of simply listing them. An online portfolio can let your work speak for itself.
Certain skills are better exemplified through showing actual work. A graphic designer, for example, could list "created logos for several businesses" on a resume. However, showing those logos is a better indicator of the designer's ability.
3. Adds to your existing resume
Trying to cram all your experience into a one or two-page document is no easy feat. Using a personal website allows you to supplement your resume without leaving anything out.
Aside from an online portfolio, your site can include testimonials from past employers or clients. You can go into greater detail about your background and achievements. Your resume will highlight the facts, but your website can tell the entire story.
4. Builds your personal brand
Branding is just as important for individuals as it is for businesses. You want to showcase who you are and what you do in a clear and consistent manner. Building your personal brand can help you control how you are seen by others, which is especially important when job searching.
Your website can help build your brand and your network. Providing links to all of your social profiles on your website will allow people to connect with you on every available platform. Having a consistent message on your social networks and your website can make it easier to gain authority while gaining followers.
5. A personal website grows with you and your accomplishments
Producing a website lets you keep an up-to-date listing of every new career achievement. You can highlight a success immediately without having to rework your entire resume around it.
This allows potential employers to see not only your overall career achievements, but the smaller, day to day victories as well. A blog that chronicles the progression of your work can showcase your frequent success rate and demonstrate your ability to overcome obstacles.
Maintaining a website shows future employers your abilities and highlights your dedication. Leverage your assets and create a website that is as dynamic and impressive as you are. 
---

Erin Palmer writes about business degrees, accredited online degree programs and career advancement for U.S News University Directory. Connect with Erin on Twitter @Erin_E_Palmer.