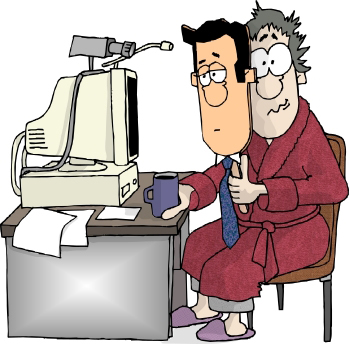 Logging into work from home can be great for personal flexibility (and easier on the company's wallet), but collaborating online just can't replace face-to-face communication.
Telecommuting technology is widespread, but it's far from perfect. There will be days when the server fails. You might miss something over the muffled chatter during the conference call. Occasionally, you might feel a little isolated and out of the loop.
Nonetheless, telecommuting tech is constantly improving and growing in popularity. In fact, one study by Citrix Systems, a software company that provides server and desktop visualization, found that a quarter of U.S. adults are going to be shifting over to telecommuting using web-based tools by 2016.
Telecommuting is here to stay!
To help reduce some of those telecommuting blunders, consider these five practical tips to stay connected and collaborative:
1. Send Files Securely
Telecommuting poses an especially high security risk because employers can't monitor who is accessing an employee's laptop. Unsecured broadband or wireless networks (public Wi-Fi hotspots) can be risky as well.
Be careful! There are tools more secure than others. For instance, "ShareFile is as easy-to-use as consumer-grade file-sharing tools and its security is IT-department-approved," suggests Elaine Ordiz of Citrix Podio.
2. Switch Documents to Cloud-Based Apps
There's nothing more annoying than to search thousands of emails to find that one document. And, of course, you forgot its file name. And what if your email crashes? Thank goodness for the Cloud!
"Rather than working in spreadsheets to keep track of your project statuses and sending meeting notes and slide decks through email, all of your team data can live in one online environment for the team to access and update whenever they need to," Ordiz says. "Podio is an example of a social work platform that unites your team, data and processes in one place.
3. Consistency is Key -- Avoid Email Chains
You can't avoid emailing — but you should avoid massive chains. For instance, Aaron Cohen, executive director at Conversation Starters, suggests using a Google Form that you update once at the beginning of the day and once at the end. Again, consistency works.
"It creates opportunities for team members to offer advice on process without jumping through massive e-mail chains or trying to catch each other in-between calls," Cohen says. "Plus, it allowed for total team transparency, even though we weren't in a central location."
4. Opt for Video Conferencing Vs Telephone
"The ability to both hear and see a colleague can help facilitate that bond of trust in a way that a phone call can't," says Michael Woodward, an organizational psychologist and author of The YOU Plan.
He suggests using Skype for one-on-one meetings and Blue Jeans Network for larger video conferencing platforms. Likewise, Erika Taylor of Three Girls Media Inc. says they frequently use Google Hangouts for meetings.
"We also use Google Hangouts when we conduct employee reviews, as well as weekly check-ins our Sr. Dir. of Publicity has with each team member once per week," Montgomery says.  
5. Rid Yourself of 'Email Armor'
"Emails don't convey tone, rarely display passion and, most of all, can inadvertently give us what I call 'email armor,'" says Derek Vasconi, CEO of Sakura Publishing, which uses almost exclusively remote contributors.
"Email armor" is when you have a tendency to be more aggressive about critiques than you normally would be if you were speaking to them directly. While there's no getting away from emails, it's important to be mindful of when to schedule a video/phone call.
Did we miss any tips on collaborative telecommuting? If so, tweet us @CareerBliss!