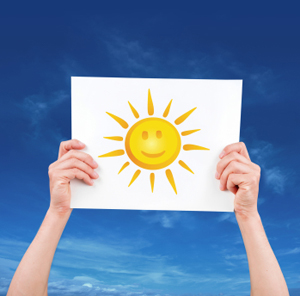 No matter who you are, quitting a job and following your heart into the darkness of career and financial uncertainty is a gutsy move.
We talked to several folks who did just that, unchaining themselves from the cubicle to pursue their true passion full-time!
Of course, the path less traveled isn't for everyone. There are practical things to consider: your family, a steady income, a 401k. Anything, however, is possible with just the right timing and enough confidence, resources and passion.
These are some awesome reasons professionals recently quit their day jobs:
1. Etsy Can Make Dreams Come True!
"I recently quit my job and career as a marketing executive, most recently at Autodesk, Inc., to pursue my hobby as a business on Etsy!" says Michelle Rudiman.
If you're not familiar with Etsy, it's a cuter, hipper version of eBay. Rudiman started her Etsy shop about five years ago while working full-time in marketing.
"The business grew as large as it could with me only dedicating part time hours to it," Rudiman says. "I had a lot of ideas but not enough time to do it."
So, Rudiman made the leap and quit her day job and moved from her home in Northern California to Las Vegas to enjoy a lower cost of living.
"I actually work harder now and more hours per day, but I LOVE every second of it," she says.
You can check out some of her items here.
2. Podcasts Can Be Lucrative    
You might have heard John Lee Dumas, ex-commercial real estate agent, hosting his weekly podcast, EntrepreneurOnFire.com -- the No.1 ranked business podcast in iTunes "new and noteworthy."
Dumas interviews today's most successful and inspirational entrepreneurs every weekday, with a lineup including Seth Godin, Guy Kawasaki and Barbara Corcoran! No big deal.
Before the big transition Dumas says he asked himself: "Do you take the leap and give yourself 100 percent over to your entrepreneurial passion, or do you continue to piddle along, fitting it in when your other responsibilities in life allow."
"With EntrepreneurOnFire, I knew it was going to take all of my heart and soul, and when I made that commitment, great things started happening." (P.S.: Anyone can create a Podcast using iTunes).
3. A Shot at the Olympics  
Brandon Borso was working in corporate sales in 2007 when he received an invitation to train with the Olympic Water Polo Team. How can you say no to that—no matter how well you're doing in billings! And so he dropped his sales gig.
"Unfortunately, I was one of the last people cut months before the 2008 Olympics in Beijing and had to return to the corporate world," Borso says.
But wait! This story has an alternate happy ending.
"While I was training, I began putting together a business plan for marketing product that eventually turned into the company I started upon my return, which is Muscle Marketing."
4. Becoming a Ron Paul Roadie
Alexis Campestre had one wild and unforgettable experience after quitting his job at a marketing firm at the end of 2011 to become a volunteer for the 2012 Ron Paul Presidential campaign through the Young Americans for Liberty.
"I spent the next three months traveling state to state setting up phone banks, coordinating get-out-the-vote programs, logistics, hardware the list goes on," he says. "Eventually myself and few others became known as the Ron Paul Roadies."
And, guess what? He was offered a full-time job with YAL!
Though he turned it down, "I look back and it was most certainly one of those moments where you are presented with two completely different life paths," Campestre says.
5. When Your Comedy Takes Off
Dan Nainan is a senior Intel engineer turned comedian! And his path to his success as a comedian (performing at high-profile events, like the Democratic Convention, TED Conference and even an Apple Get a Mac commercial) was totally serendipitous.
"My job was to travel the world with Chairman Andy Grove, doing technical demonstrations on state at events, and I was incredibly nervous about speaking on stage," Nainan says. "I took a comedy class to get over the fear, and the comedy kind of took off."
Bam!
Hidden talent revealed and his life has never been the same again.