Feel like you're in a rut when it comes to your drab workspace? Staring at the same boring, blank walls sure can have that effect.
Creating a personalized, vibrant workspace is a great way to liven things up and uplift your mood. And ever since Pinterest  graced us with its presence, it is now easier than ever to stumble upon millions of amazing, cheap and easy DIY desk décor!
Since I absolutely love Pinterest and have a tendency to dabble in crafts here and there, I thought I'd round up some of my favorite (and easy!) projects from crafty blogs around the web. You can do these instantly create a happier workspace. It's the little things that can make all the difference.
Happy crafting!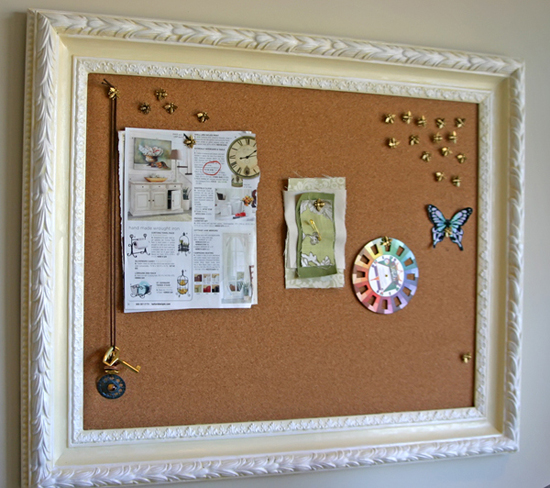 Every desk could use an inspiration wall. Take a boring cork board and transform it into a vintage-inspired framed bulletin board. We found this little gem from LisaTutman-Oglesby's blog on creativity!  Pin some of your favorite quotes, thank you notes, photos and anything else that makes you smile.
If you're not into cork boards or can't find an old frame, another creative way to create an inspiration collage is to clip your inspiring notes and photos on a mini, quasi clothesline. Just pin the ends of a long string horizontally on your cubicle wall and create a string of inspiration! We love the idea of quaint clothespins because they are way more interesting than boring pushpins. Check out the Clothespin Memo Rack courtesy of Martha Stewart's official website.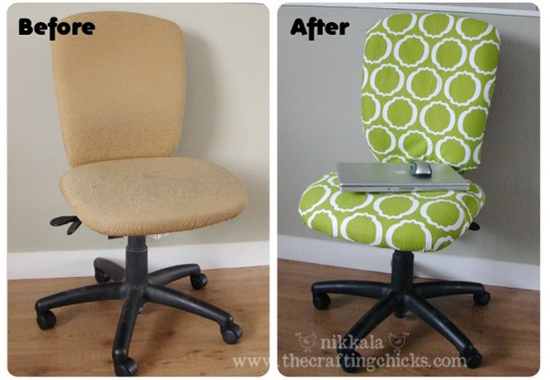 Here's a handy way to personalize and reinvent your office chair we found on The Crafting Chicks blog. All you need is fabric, staple gun and pliers. Blogger Nikkala offers a great step-by-step guide to upholstering your chair via the title link.
Of course, those of us who can't exactly skin our company office chairs can still partake in the fabric festivity—use the fabric as more of a slip rather than skin, kind of like this one.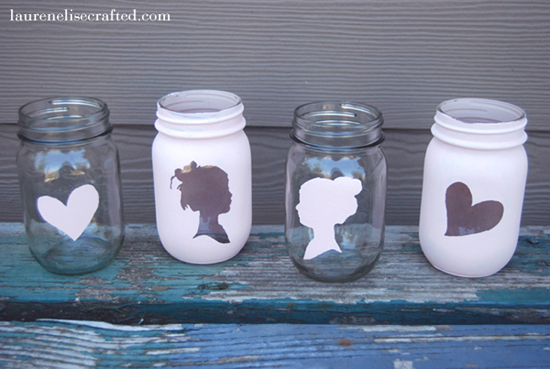 Ah, there is so much you can do to a mason jar! Paint it or lace it. Place flowers, faux candle or office supplies in it. Really—anything you want!
Saved Love Creations graciously came up with 50+ DIY Mason Jar Décor Ideas! How cute are those pin heart silhouettes painted jars above? Those would look amazing on your desk holding pens, flowers or even as is! Courtesy of Lauren Donaldson. I highly recommend her Pinterest page.
My personal favorite Mason jar use: start a gratitude jar! Each time something awesome happens at work, write it on a small piece of scrap paper, fold it and toss it in the Mason jar. After a full year, pour them out and relive your best moments! We recently started a gratitude  jar at CareerBliss!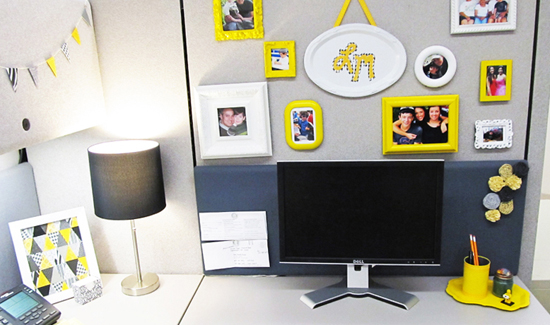 Check out this awesome black and yellow themed cubicle decorated by Laura Metallo via The Office Stylist. We absolutely adore this style (especially because CareerBliss colors are black and yellow too!). Yellow's also a great color to choose because it will instantly brighten up a boring, grey cubicle!
5. Creative Photo Frames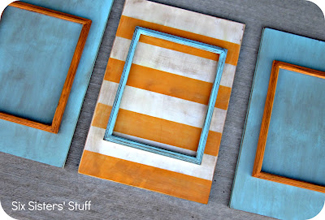 Displaying photos of your family and friends is the best, easiest way to add a little color and personal touch to your desk décor! Instead of using boring black, plain frames from the department store, why not create your own stacked frames? Six Sisters Stuff blog offers a great tutorial on how to create stacked frames for a pop of texture!.