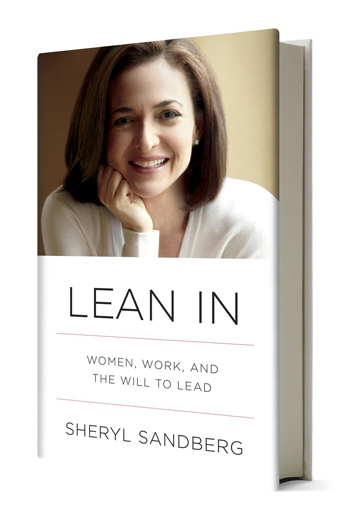 "Lean In," the new book by Facebook Chief Operating Officer Sheryl Sandberg, has become a movement of its own. Granted, that's largely in part to Sandberg's very smart inclusion of a website dedicated to furthering the discussion of women in the workplace, LeanIn.org. But the book's release was timely as well, coinciding with Yahoo's decision to ban telecommuting and the heated discussions about workplace flexibility and work-life balance that came after."
And while the book and website are geared towards encouraging women to lean into their careers rather than stepping back to worry, as so few men do, about their potential future families, it provides lessons for both genders, and for professionals at all levels.
Here are five quick lessons on leaning into your career.
Leaning in means using your "weaknesses" to your advantage -- Mellody Hobson, a LeanIn.org contributor and well-known investment expert, talked about how her lack of experience in her first job out of college was actually an asset. Even though she was often surrounded by professionals with years of experience and advanced degrees, Hobson used her inexperience as an asset rather than a weakness. She says, "I never questioned speaking up, raising my hand or taking a seat at the table. Leaning back was never an option."
Leaning in means taking risks -- Everyone finds themselves at a point in their careers where they start wondering, "what if?" What if I didn't want to do this job forever? What if I finally focused on that career I've always dreamed about? What if I left this career -- what would I do next? If the little birdy on your shoulder keeps whispering to you about all the possibilities you could have if you'd only get out of your rut and take some chances, consider leaning in and listening to that very smart bird.
Leaning in means using all your experiences -- If LeanIn.org is full of something, it's stories of woman who used their experiences as wives, mothers, sisters, and friends to advance their careers (and very often, help a lot of people in the process). Traditional wisdom says that women need to be less female and "think like a man" in order to advance their careers, but leaning in means using who you are, where you've come from, and what you've known as your biggest assets. Whether that's your youth or age, your gender, your economic status, or any other measurements that tend to box us in, don't abandon it -- embrace it.
Leaning in means finding (and giving) support -- On LeanIn.org, you'll find the story of Newsweek reporters who banded together to bring to light the gender discrimination that they'd experienced. Imagine, a group of reporters coming together to write a story about discrimination at their own news organization? As with any controversial professional move, people who go it alone tend not to get too far. Leaning in, however, can mean leaning in as a group to move each other forward in ways that no individual could accomplish. Finding support is a key component of leaning in.
Leaning in means never letting fear drive your decisions -- What's one of the biggest things holding professionals from all industries, at all levels, back? Fear. Fear of the unknown. Fear of trying something new. Fear of other people's opinions. Fear that choosing one options means abandoning all your other possibilities. These kinds of fears freeze people into position and make it nearly impossible to move forward. As Neelie Kroes, the former Transport Minister for the Netherlands, explains, "I knew I had to act based not on fear of the consequences—but by doing what I knew to be right." Instead of holding onto fear and leaning back, lean forward despite your fears.
The overarching lesson of Sandberg's "Lean In" is that, rather than falling victim to fears, doubts, "what ifs," and other negative, inhibiting thoughts and feelings, professionals should buck-up and carry on, charging through all those things if necessary. The thing that holds most of us back from reaching our potential and finding career happiness is truly ourselves.