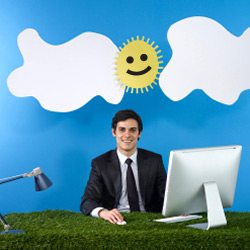 Let's assume you became a quadruple millionaire – would you still get up every morning and do your job? Would you do it for free? Chances are your answer is no. But what if your job was your hobby? You might roll around in a bed of dollar bills for a while but, for the most part, you'd keep doing what you've been doing.
Nearly every hobby has a corresponding professional niche. Countless professionals (from surfers to social media addicts) have invested time and energy in pursuing their passion and found a way to get somebody to pay them for it.
But how much could you really rake in if you pursued a passion?
We analyzed hundreds of salaries submitted by real employees to look at how much dough some of the most seemingly fun and interesting jobs might produce:
1. Professional Athlete - Average Salary: $60,897
It's a long uphill battle for those who have the talent, determination and skills to play among the great athletes—but totally worth it.
Some cool perks: parties, no stuffy desk job, no boring 9-6 hours, recognition, fandom, free stadium food, training, nutritionist access, travel accommodations … and spiffy uniforms!
2. Disc Jockey - Average Salary: $39,376
Are you the one who burns CD's for your friends? Making playlists for every mood and jumping out of bed every Tuesday for new CD releases. You might have a little DJ-blood in you. Of course, it takes a lot more than just an interest in music.
DJs must know how to appeal to a specific audience and enhance the ambiance at such places like wedding, clubs, parade, radio, Disneyland — you name it!
Some cool perks: attend fun functions, free food (sometimes), schedule flexibility, work for yourself, and simply listening to some good jams all day.
3. Musician - Average Salary $38,696
A musician's job can range from producing songs, singing, conducting, playing instruments, etc. A tough industry to break in, a musician requires a bit of natural talent,
Some cool perks: About half of all musicians work for themselves, according to the Bureau of Labor Statistics, fandom, free shows, traffic on your YouTube channel, free drinks and maybe some underground or mainstream parties.
4. Vacation Planner - Average Salary: $34,644
Vacationing (or traveling) can be a hobby — after all it takes a ton of proper planning and management to have a successful trip. An oversight in booking transportation of lodging could ruin your whole weekend! A career in personal vacation planning means taking someone else's money, communicating exactly what they're looking for in a trip, and exceeding their expectations!
Some cool perks: potential for discounts from vendors and facilities, knowing all the ins-and-outs of tourism, potential for VIP attention (because hotels and stuff want you to book them for your clients!), and much, much more.
5. Game Tester - Average Salary: $30,633
If you love playing video games all day every day, realize that they need people to test these things! Go to school for computer science and learn all about how these programs are made. Then, you can find a job as a QA tester to play the games and make sure there aren't any bugs in the software.
Some cool perks: Ability to play games way before your friends, learning all the secret tip and tricks, and potentially attending cool gaming conferences.
Pro athlete or disk jockey not for you? There are still plenty of great jobs out there. CareerBliss has millions of jobs.