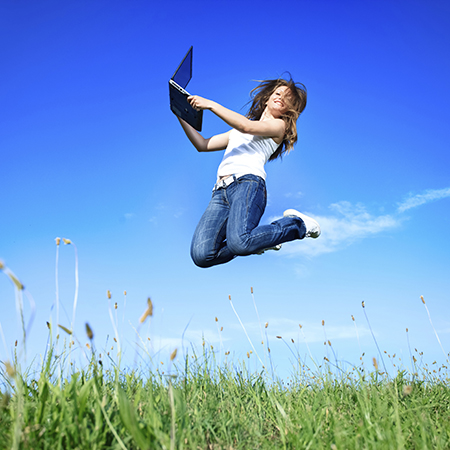 Entrepreneurial bug get you yet? By 2020, more than 40 percent of you will say goodbye to corporate life and become freelancers, contractors and temp workers, according to a study by software company Intuit.
"Today roughly 25-30 percent of US workforce is contingent, and more than 80 percent of large corporations plan to substantially increase their use of a flexible workforce in the coming years," the report says.
As high technology prices fall and our global market economy grows, the job market will continue to open up great opportunities for freelancers. It'll become more and more profitable for you to freelance as we near 2020.
Until then, there are tons of benefits to being a free agent right now: Ultimate flexibility, minimal overhead and the ability to choose your own clients (down the line).
Still, if you're anything like me, not having the stability and security of a traditional 401k, steady income and health care can be pretty unsettling.
To help ease the transition between working for one employer to freelancing, we asked several successful freelancers about the best helpful tips for those of you who want to freelance. Check it out:
1. Create a Plan: Build an Impressive Portfolio Before You Start
There's no getting around it. Freelancers need an impressive portfolio to be seriously considered by future clients.
The best way to start from scratch is to first work for free. "Side hustles are a great way to start freelancing to generate enough business until you can quit your day job," says Kim Herrington, a freelance online marketing consultant.
2. Make it Legit--Be Smart about Taxes
As a freelancer, you are basically a corporation. So, you'll need to look into self-employment taxes.
"Self-employment taxes, separate bank accounts for business and contracts are all important aspects of being a freelancer," Herrington says.
Since you won't be paying taxes out of your paycheck like the rest of the nine to fivers, freelancers are responsible for setting money aside themselves to pay taxes. Save yourself from an unpleasant bill down the line!
"The IRS Form 1040-ES includes a worksheet to help you estimate your taxes for each quarter based on your income, as well as on deductions and credits for the previous year. You may want to create a dedicated savings account solely for your tax payments," according to the Daily Finance.
For more info on how to handle taxes, IRS forms and all that jazz, check out The Finances of Freelancing on The Daily Finance.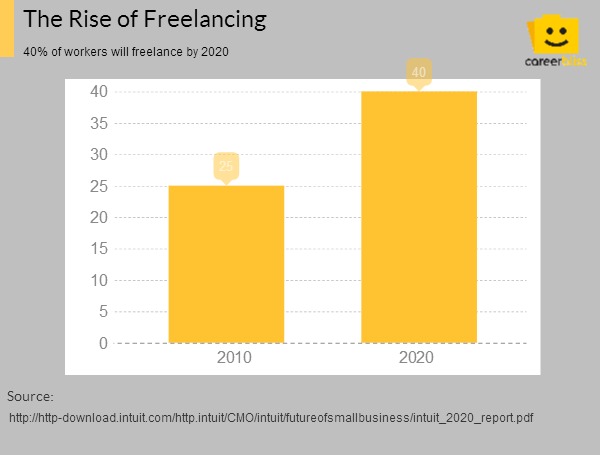 3. Build a Cushion By Saving at Least Six Months Salary
The more savings padding you have, the better. Financial experts recommend saving six to nine months salary before you take the plunge into freelancing. This--coupled with your side hustle--gives you an awesome push into the right direction.
4.  Call Everyone Who Might be Able to Help You
Before you're hired by a top Fortune 500 company, first you'll need some mileage down on smaller clients. The more clients you have, the faster you can climb up the ladder and start getting bigger and bigger clients.
Tyler Young, principal consultant at Conversion Insights, says he found that his own personal network of family and friends gave him a big boost. Call and "explain what you're doing, the value you provide people and ask if they know of anyone who could use that," Young says. "More often than not, they might need your help---you never know until you ask." It never hurts to ask!
Check out Top 10 Sites for Professional Networking Events
5. Bolster Your Online Presence
Magda Walczak, former vice president of marketing at tech companies, is now a marketing consultant. She finds LinkedIn groups to be extremely effective in networking.
"Join LinkedIn Groups that match your skill set or industry expertise. Companies will post opportunities there, but the added benefit is that the groups will help you keep up with the latest news and ideas from that industry, thus helping you further develop your skill," Walczak says.
Elance and Microlancer are two other great websites to stay active on for more clients. Make sure you create a great personal website to link to as well--so clients can get an easy look into what they'd be getting.
6. Document Everything!
Documenting is huge in freelancing. "Document, document, document. Write detailed proposals, project timelines and especially contracts. Create a document for when the project is complete. Make the client sign it saying the website has reached its completion and additional services will render a fee," says Lauren Holliday, a marketing freelancer.
7. The Rule of Three
Freelancing can get overwhelming when you have multiple clients, bills and meetings.
Here's a pro tip: Always make sure you have three things happening at all times. "When you get paid for a job, you should have another job ready to bill , another that you are working on, and lastly one that you are in the finishing stages of getting hired on," says Curtis Burkett, freelancing as a licensed private investigator. "It's kinda like a seal in the circus you have to spin all the balls at once without dropping any."