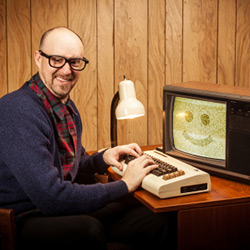 For some people, the very idea of working from home is enough to induce happiness. Just think of the freedom, the flexibility, the independence!
And it's true, working from home does have its perks -- and freedom, flexibility, and independence are among them. But, especially for new remote workers, the downsides of working from home can come as a bit of a shock. The isolation, lack of focus, and self-management can make even the most ardent remote workers occasionally yearn for the good old days at the office.
Luckily, there are many ways to stay happy when you work from home.
1. Acknowledge Your Weaknesses
Are you a procrastinator? A bad multi-tasker who can't focus? Or, maybe, you're just helpless against a nice, sunny day that begs you to be outside.
Struggling with your own work ethic day after day is sure to make you unhappy, and it just might make your boss unhappy too. Whatever your weaknesses are, you first have to acknowledge them in order to tackle them head-on and keep everyone, yourself included, happy.
2. Draft a Plan
For procrastinators and those who lack focus, simple things like making a to-do list, or a daily schedule can help keep you on track. Using an egg timer to force yourself to sit at your desk and concentrate can help keep you seated when everything else in your house seems more interesting than work.
And if you love the great outdoors, take advantage of your flexible schedule to check the weather reports ahead of time and plan to do your work when the clouds and rain roll in. Or adjust your hours so you finish your work early or start it later in the day, maximizing your outdoor time during peak weather.
3. Don't be a Shut-in
Working from home alone, day after day, can take its toll. And no, hopping on Facebook or other social media sites throughout the day can't recreate the human-to-human contact you used to get in the office. Instead, think of ways to get your people fix when working from home, like these:
Take a walk. This works especially well for people who live in people-filled suburban or urban areas. Simply taking a walk through your neighborhood, smiling and saying "hello" to passersby, can help alleviate feelings of isolation.
Work from outside your home. If you already work from home, you probably use portable devices like laptops and smartphones to do your work. Take advantage of your portable office and head to the local coffee shop, library, or coworking space to spend time with other humans.
Call instead of emailing. The simple act of having a real, out-loud, verbal conversation with someone rather than typing an email has a huge impact on reducing isolation. If possible, think of someone to call who makes you laugh. Laughter, even for isolation, is often the best medicine.
4. Set Boundaries
When you work from home, all of a sudden work becomes accessible 24 hours a day. Some remote workers get caught up in an endless loop of work where they just can't pull themselves away from their computers.
If possible, set up a separate work space from the rest of your home, so you can literally shut the door and leave the office at the end of the day. And set a reminder on your calendar alerting that it's time to "go home" at 5 or 6 p.m. like rest of the world. If you think you'll be tempted back into the office by the glow of your laptop, turn off all your work-related devices - and we mean OFF, not put to sleep! - so you can't easily jump back into work after dinner.
And if you're REALLY tempted to work until all hours of the night, make evening commitments with friends and family that get you out of the house and away from work.
Ironically, one of the best ways to stay happy when you work from home is to make sure you're not always working! Even the most interesting, passion-inducing, fascinating jobs become a burden when you work too much, so figure out your weaknesses, plan ahead, get out of the house once and awhile, and set boundaries for yourself. These are the keys to staying happy when you work from home.