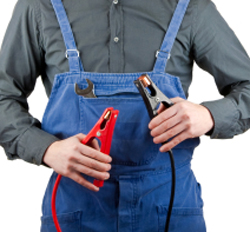 With the new year well underway, now is a perfect time to layout your career road map for the coming year. Setting attainable, forward-moving career goals for yourself now will help you follow through and make the most out of another year at work.
If you can look back at your career in 2012 and be satisfied, you might be entering into 2013 on a good trajectory and be tempted to sit tight. But whether you're satisfied in your career or looking for something better, make the new year a year of action.
Here are four ways to jumpstart your career in 2013.
Audit Your Career
Is your current job what you pictured yourself doing 5 years ago? If not, is it something you still want to be doing 3 years from now? What are the parts of your life that get in the way of achieving your career goals? Education levels? Location? Initiative? Uncertainty? How can you remove those roadblocks?
Take one hour (it's only an hour!) to sit down and audit your career as it stands. This kind of introspection will help you move onto step three.
Outline Goals for 2013
These shouldn't be your over-arching, life-long career goals, but should be the specific things you want to attain in your career this year. Do you want a promotion? A raise? A certification? An award? A bonus? More vacation time? A more flexible schedule? A new job altogether? Make a list of your must-haves and even a few big wishes for your career in 2013.
Create a Plan
For each of your career goals, outline the steps necessary to achieving them, and assign yourself a deadline for each step. Having a deadline for the overall goal is fine too, but it's much easier to reach your goals if you know what small steps need to be taken along the way.
For example, if you want to ask your boss to allow you to work from home two days each week, your actionable steps should be to equip your home office, create a proposal which details the telecommuting arrangement, research the benefits of telecommuting for employers, ask for a meeting with your boss, pitch your boss on the idea, and then follow up with any of their concerns.
For more details, check out How to Convince Your Boss to Give You Flexible Work Arrangement.
Take Action
The only way to reach your career goals in 2013 is to start moving towards them now. One step at a time - it's a cliche, but it's also true. Don't wind up looking back on the year and wondering why you didn't reach any of your goals. Starting taking steps now and your career goals will be absolutely attainable in 2013!
---

Brie Weiler Reynolds is the Content and Social Media Manager at FlexJobs, the leading site for telecommuting and flexible job listings. A remote worker herself, Brie writes about job searching, career advice, and telecommuting and flexible work trends on the FlexJobs Blog, and she interacts with FlexJobs' job seekers through social media. Find her @FlexJobs on Twitter.