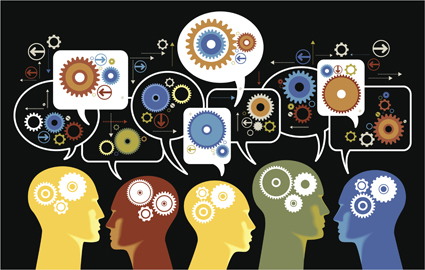 I am often asked the question: "What is the one thing Dyn could do to improve its culture?"
I love this question because we're always looking to improve our technology, our community and our people/culture. Since it's something that is always top of mind the answer is an easy one: our communication.
Communication is by far the hardest thing to get right in any organization because it's the most complex and critical thing we do on a daily basis.
I say complex because of the number of variables that go into any communication:
Method: Are you speaking face to face, over the phone, text, instant message, email, Twitter? The method in which you're communicating will play a huge role in how your message is received.
Words: Do people understand the words and jargon you're using? Clarity and simplicity are key.
Tone and Body Language: Are you being sarcastic, angry? Are you standing in a threatening position? How we deliver a message is just as important as the words we choose -- often even more.
Environment: Were they in the right place and frame of mind to receive your message or were there distractions preventing your message from getting through clearly? Choose your environment carefully when delivering an important message.
Relationships: Is there a high level of trust, respect and understanding between the sender and the recipient of the communication? Before delivering any message, take a moment to appreciate the dynamic between the sender and the recipient.
While all of these factors are critical, ultimately it's the relationship that is the most important and powerful variable in communication.
Good relationships are crucial. Without a great amount of trust, respect and understanding between people there is a lot of room for uncertainty and ambiguity to fill the void. This is even more critical when the people communicating aren't peers on the org chart. The power and influence that one person has over the other greatly changes the dynamic, even if the communication is clear.
Let me give you an example that we've all seen play out before:
An individual contributor says one word and everyone heard them say one word. It's likely that most will agree on which word was spoken.
A manager says one word and everyone heard them say a sentence. Half of the group agrees on what was actually said.
A director says one word and everyone heard them say a paragraph. Less than half can agree on what was said.
A VP says one word and everyone heard them say an entire chapter. Very few can agree on what was said.
An executive says one word and everyone heard them write an entire book. Nobody can agree on what was said.
Frustrating, right? If this will happen no matter how clear the communication is, how do we minimize it? Here are four sure-fire tips to get everyone on the same page:
Communicate the same message in multiple formats and take extra care of anything written. We can't hide from the pen or email.
Use consistent language within the organization so everyone can agree and understand the definition of certain terms.
Focus on the why (and be concise). The more we explain our intentions and motivations, the better people understand each other and the goals of the organization. It helps shape the default context that they'll have when communicating.
Reinforce a flat social structure. The inequalities of influence that occur when one person is in a position of power over the other can be adjusted by the people in power showing respect and trust towards those they're in power over. Talking about the things we have in common regardless of roles, such as hobbies, families, and beer help keep people on a level playing field.
Chris Widner is director of culture at Dyn and a member of the CareerBliss Advisory Board. Check out his personal website and connect with him on Twitter @chriswidner.