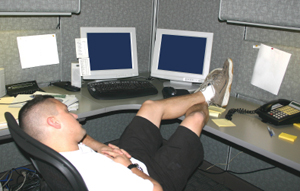 If you've made it through the transition from school to career, congratulations! After a while, though, the job you fought for and coveted above all others may be proving tedious. Instead of counting your fat paychecks, you may find yourself counting down the hours — no, minutes — until you are free.
One of the difficulties in the transition from student to professional is the shock of not being in charge of your schedule. Gone are the days of spontaneous sun bathing in the quad while you "study," not to mention those post-midnight Taco Bell runs.
The 40-hour workweeks, deadlines and traffic are here to stay. How can a new professional stay interested in a career when real life begins to be a drag? Here are some tips to help you maintain motivation through the after-lunch slump, each and every day.
1. Consider the Alternative
Yes, your job is boring and your take-home pay is, well, less than you hoped for. But with so many people unemployed, it might help to think about how lucky you are to even have a job. Remembering to be thankful can help you appreciate and feel more satisfied with what you've got.
2. Get Some Fresh Air
Treat yourself to lunch with a coworker or friend a couple of times a month. While it's good to save money by bringing your lunch to work, eating the same turkey sandwich and Diet Coke every day can contribute to your lackluster feelings. A healthy change of pace keeps things interesting and gives you something to look forward to while you work.
3. Work Hard, But …
In the first few months on the job, you may be tempted to work your tail off. And that's exactly what you should be doing. However, you still need to make sure that you are going home at a reasonable hour and taking a break on the weekends. Time away from work can make your time at work that much more productive. You'll feel refreshed and ready to take on the challenges you face at 9am if you're not at the office until 9 p.m.
4. Think Ahead
Many people expect new employees to have to "work their way up" or "pay their dues." There is wisdom in this perspective: You need to prove yourself and gain experience. There is also comfort in this sentiment: You shouldn't feel trapped if you're doing a job that an above-average, trained monkey could do. Focus on doing your job well, and, when you can, ask to take on tasks that are outside of your normal responsibilities. Think ahead to (and dress for) the next job you want to have and climb that proverbial ladder.