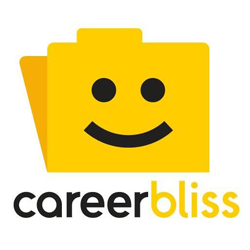 Hello, CareerBliss here.
We want you to be happy in life, and we believe that being happy in life has a lot to do with whether you're happy in your career.
And that's why we're here – to help you get happy in your career
Whether you're just getting started in your career or you're a seasoned pro, CareerBliss offers the of resources – free, of course -- to help you make better-informed, happier career decisions.
Check out these four ways CareerBliss can help you in your career:
CareerBliss has Millions of Jobs: Whether you're a software engineer or  a high school teacher, if you're looking for your next gig look no further than CareerBliss. Search more than 3 million jobs by job title, company name and location.
CareerBliss has Company Reviews: Curious about what it's like to work for Google, WalMart or the U.S. Postal Service? CareerBliss can satisfy your curiosity. We have more than 600,000 company reviews submitted by employees.
CareerBliss has Salary Info: What does a Java developer in San Jose make … or, how about a project manager in Houston? Research millions of salaries on CareerBliss. Search by company, job title or city.
CareerBliss has Career Advice: Get tips on resumes, interviews, networking and everything else career related. Our expert advice articles help you navigate toward your career goals. Check out our CareerBliss career guides.