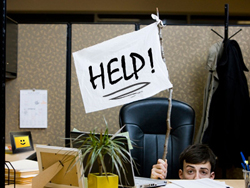 We really believe there is a happy job out there for everyone. But we also understand that sometimes you just need a job – and that might mean you wind up at a company with a not-so-great culture (seems like those ones are always hiring because of high turnover).
Don't mistake bad cultural fit for bad culture – though they both can lead to unhappiness. Bad fit can happen at companies with positive, productive cultures (let's say you're used to neck ties and loafers, you may have trouble fitting in at an office where t-shirts and flip flops rule the day). Bad culture, on the other hand, is just bad. It can be characterized by fear, secrecy, insecurity, hyper-competitiveness.
It is, of course, best to avoid hiring on with a company that has a negative culture in the first place. But what do you do if, out of ignorance or necessity, you find yourself in a negative work environment?
1. Focus on the Good
While the bad things at work may be all too apparent, do your best to identify the positive things. It could be the friendship of another coworker who also is trying to resist the negativity of the office. It could be a compliment from a client or customer. It could be a success, either big and small. Or it could be understanding just why you go to work every day (for instance, to support your family, which brings happiness to your life).
Even in a desert, flowers bloom. Try to find the good things, no matter how few and far between -- and then squeeze as much happiness as you can out of them. CareerBliss contributing expert Dr. Robert Giacalone, aka the Career Healer, suggests keeping a diary of workplace joy so no happy moment goes unappreciated.
2. Maintain Your Values
Resist giving into the negativity of the workplace. Whether it is hyper-competitiveness, back-stabbing or something else, don't let the bad culture change your values. Be honest. Share credit when appropriate.  Don't be mean or rude. Treat people with respect. In general, treat people the way you'd like to be treated. If you're not true to your values, chances are you'll not only be unhappy with your job but with yourself, too.
3. Protect Yourself
Maintain your values – yes. But don't forget where you are. You still need to protect yourself. Bad culture often comes from management, either the people in charge shape the bad culture or they are weak leaders and don't do anything to stop it from developing. In either case, taking problems to the boss likely won't be effective. At the very least, however, document the things that happen at work that may end up hurting your job or your career. Having a written record will help you defend yourself.
4. Plan Your Exit
If you're suffering in a bad work environment, the best thing you can do for yourself is find a new job with a better company. Granted – it's easier said than done, especially these days. But don't be deterred by the challenge of it. Update your resume, reach out to your network and start looking. A better job is out there, and the mere act of searching for it can be enough to boost your spirits because you're actually doing something to improve your life.