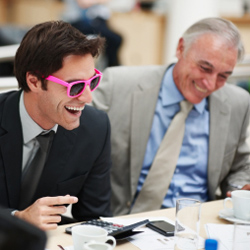 Smartphones. Social media. Skype.
Technology has made it easier and easier to communicate across distances near and far.
Communication across generations, however, is a different matter – especially when it comes to the workplace.
In fact, businesses are reporting that generational differences are causing workplace tension, according to Dale Kalika, senior lecturer at the W.P. Carey School of Business. And "80 percent of Fortune 500 executives say that communication across generations is a challenging issue in the workplace," according to a Forbes guest article by Speakeasy CEO Scott Weiss.
If you're a Gen Y-er feeling a little apprehensive about working effectively with older professionals, consider these tips for collaboration:
1. Go with the Company Flow
Look around. Is your company more on the traditional side when it comes to culture?
"Depending on the company culture, especially in old-school corporate environments, it is sometimes common to see miscommunication between generations," says YouTern CEO Mark Babbitt.
It often comes down to how we communicate: "one-sentence texting and on-the-fly, in-cubicle discussions vs. lengthy emails or the longer, more formalized meetings perhaps preferred by Boomers, for example," Babbitt says.
Observe how most people communicate and then follow suit.
"Be careful of the communications channel being selected in sending messages. Some messages should not be sent through e-mail or texting," Kalika warns.
Remember, nothing beats face-time.
2. Bring a Positive Attitude
If you want to earn the respect of the older workers in the office (who are likely part of management) approach your work with a humble mindset and willingness to learn from them, says Tim Elmore, founder and president of Growing Leaders, a nonprofit organization with a staff spanning three generations.
Elmore suggests you volunteer for projects that you don't want to do. It will show older workers that you're willing to work hard and pay your dues. Incidentally, it'll also erase those crazy stereotypes about Millennials being entitled or narcissistic.
"Your positive attitude will impress company leadership and pave the way for more senior-level project opportunities," Elmore says.
3. Be Authentic
While going with the company's flow is important, you can't lose yourself in the process. There's no reason to emulate an old-school vibe if that's just not you — even if it's what you think your older colleagues will like it.
"Be authentic. Be sincere. Get to know your colleagues as individual team members, and perhaps as bi-directional mentors," Babbitt says. "After all, in a mentor-based relationship we typically learn a great deal while remaining focused on the common mission, results and success."
In other words, there's a lot that older and younger colleagues can learn from each other -- but it's a lot harder to do that if you're not being yourself.
4. Remember: It's Business, Not Personal
If you receive constructive criticism or experience hiccups in your interactions with older colleagues, Kalika emphasizes that you should keep in mind that "disagreements, frustrations or perceived outright conflicts among people of different ages may not be personal, but because of such generational differences."
Babbitt would agree and says that sometimes, generational misunderstandings are a human issue. "Instead of seeing each other as capable colleagues and contributors, we Boomers fall into a pattern of treating Millennials as we do our own children. And Millennials think of Boomers as they do their parents," Babbitt says. "Not necessarily a healthy start when building a one-on-one professional relationship."
If you find yourself in a jam like this, take a deep breath, regroup and try and re-approach the situation in a respectful, positive way.