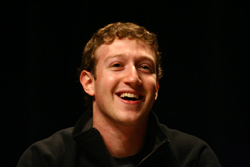 Just six months ago or so, having a job at Facebook would have made you the envy of all your friends. But ever since the stock dropped by half, there's trouble in paradise.
According to several publications, employee morale at Facebook has taken a hit. Even CEO Mark Zuckerberg has acknowledged in a staff meeting that watching investors cash out may be a little "painful," according to several reports.
This got us thinking: if your company's health isn't so healthy, should you stay or run for the hills?  The answer isn't always crystal clear.
"When information about the financial stability of your employer hits the news we naturally fill in the gaps with information that may or may not be true," says Steve Langerud, director of professional opportunities at DePauw University.
But in order to navigate a jagged financial situation as an employee, you need to take control, he says. Before you make a rash decision—pinpoint what you want.
Here are some things to consider when deciding to endure the storm or jump ship!
1. You're in it for the Mission, Not Money
"We don't build services to make money," Zuckerberg wrote in Facebook's IPO prospectus. "We make money to build better services …. People want to use services from companies that believe in something beyond simply maximizing profits."
So if you're working at a company that truly changes lives and the way we live for the better, the warm, fulfilling feeling you get from the work you do could be worth enduring the financial struggles with the company.
The Wall Street Journal recently reported that some Facebook employees are staying positive through losses because they wholeheartedly believe in Facebook's vision. "I'll take a short-term loss now," says one employee, according to the report.
These folks are all about the big picture!
2. There is Still Hope
If all isn't lost, then there is no reason to freak out prematurely — no point in breeding negativity.
Career Coach Roy Cohen, who also wrote The Wall Street Professional's Survival Guide, says if there is short term trouble, a bump in the road is a flimsy excuse for jumping ship.
"All companies, at one time or another, will be in distress and most of these companies survive," he says.
Ron McMillan, co-author of the New York Times best-seller Crucial Conversations, would agree with Langerud in that you should make sure you're well-informed, as opposed to relying on water cooler tittle-tattle. Sure, it's a red flag. To confirm, McMillan suggests simply asking your boss.
"If your immediate boss doesn't have access to that information, they should ask him or her who does."
3. You Trust in the Guys or Girls in Charge
In a staff meeting, Zuckerberg reportedly told employees not to focus too much on the stock price "since volatility is to be expected. And he mentioned that the press (which is questioning Zuckerberg and the future of Facebook) doesn't know what Facebook is cooking up in future plans. If they did, the press might have more faith, he told the staff.
Langerud encourages you to think about who you trust. After all, companies are about people, he says. "Do you trust your boss, colleagues, shareholders?" he asks.
Finally, an important question to determine your fate: "Can you see yourself as part of the team that addresses the difficult situation?" If the answer is no, it's time to tactfully bow out.
4. New Opportunities Spring from Challenging Situations
"Great risks bring great rewards," Langerud says.
Dennis M. Grady, partner of Spire Search Partners, which specializes in financial services, would agree with Langerud and says that poor financial health can make for real career opportunities — if you're a savvy navigator.
"It's a time of change and change over so more senior roles can open up, very strategic opportunities can open up as that firm looks to regain its footing or change its focus or plan," Grady says.
Above All, Look Out For Your Career
"Employees should manage their own career, rather than believe the organization will do it for them," says McMillan. And none of the above reasons should stop you from being prepared with an excellent exit strategy—just in case you decide it's time to bounce. If your company is struggling, be prepared: