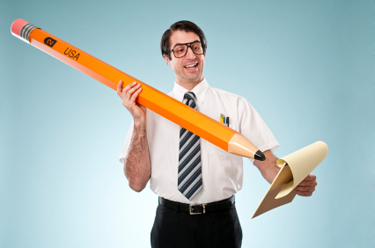 Resumes are not meant to be stagnant, unchanging documents. Rather, savvy job seekers change their resumes for each new job opportunity. If you haven't paid much attention to your resume lately, it's time to change it up a bit.
Everyone's resume can use some spiffing up (mine included!). Before applying to your next potential job, try out these four resume changes to clean up your job applications and make yourself stand out. Your next employer will thank you.
1. Include Hyperlinks
As recently as five years ago, resumes were considered paper documents without connection to anything else. But now, it's crucial to make your resume a living document that employers can use to really get to know you. Employers are going to search for you on the Internet anyway, so why not make it easy for them by including links to relevant sites?
The obvious links to include are to your LinkedIn Profile, About.Me page and any professional online portfolio or website you've created. This is especially important if you have a common name because you don't want someone else's less-than-professional Internet image to be mistaken as yours.
2. Remove Mentions of What YOU Want
If there is any wording in your resume talking about what you've gotten out of past jobs, or what you're looking to get out of your next role, remove it. Employers don't want to hear about what you WANT out of your next job, they want to hear about what you have to OFFER.
Avoid saying anything like, "Seeking a job which will challenge me and provide opportunities for growth." It may seem, when you're writing this, that you're telling employers that you're ready for a challenge and open to growing as an employee, but it can also be interpreted as "me, me, me" and all about what you want out of the job. Instead, tell employers what you're offering them through your unique experiences and skills.
3. Remove Unrelated or Duplicate Experiences
Recently, I saw a four-page resume that, though it was well-laid-out, was way too much information for any employer to digest during a quick review. One of the main issues that stood out is that the job applicant had lots of experience in very similar positions, but listed every single position, along with long lists of tasks and responsibilities.
If all of your job experiences are all very similar, there's no need to list EVERY job, internship, and volunteer opportunity you've had in that field. Instead, Choose the best of the best -- the experiences that speak the most about you as a professional. You can still list the other jobs, but don't spend valuable space explaining every detail of what you did if it's too similar to your other jobs.
4. Put Your Resume Online
Similar to the first suggestion, this one is all about moving your resume into the digital age. Because job security is no longer even close to guaranteed, it's important to be constantly, even if passively, job seeking. Fill out your LinkedIn profile to completion, and consider creating an online portfolio or website to showcase your work history. Make sure that any information that can be found on your resume (minus your address, or course), can also be found online, especially where employers will be.
Don't wait until you find a job listing to update your resume. Make some time on a regular basis to keep it up to date, try new options like hyperlinks, and keep your professional image current and relevant.
---

Brie Weiler Reynolds is the Content and Social Media Manager at FlexJobs, the leading site for telecommuting and flexible job listings. A remote worker herself, Brie writes about job searching, career advice, and telecommuting and flexible work trends on the FlexJobs Blog, and she interacts with FlexJobs' job seekers through social media. Find her @FlexJobs on Twitter.