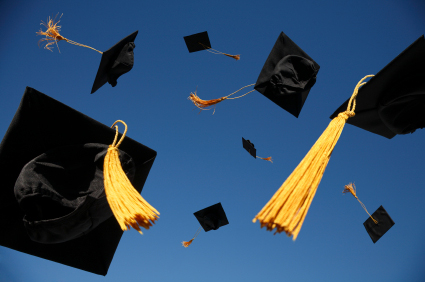 At some point, most every college student comes to the same grim realization: where will I be this time after graduation?  Back home…maybe Los Angeles…or grad school? Decisions, decisions.
Lots of your friends and classmates are likely in denial, lost or passively job searching. The Student Career Development Study Millennial Branding, a Gen Y research firm and StudentAdvisor.com, a Washington Post Company found that many students are not aggressively preparing for their post-college degrees.
For instance, less than half of students have had an internship so far and only one-third of students have a presence on LinkedIn, according to the study.
This is actually good news for you, aggressive job seeker. Online career resources are a wide open opportunity just waiting to be pounced by juniors and seniors.
"Persistence is the key to career preparation," says Lynda Zugec, managing director at the Workforce Consultants. So, hit the pedal and kick into overdrive in your career prep (sooner than later)! Here's how:
1. Master LinkedIn
Steve Langerud, director of professional opportunities at DePauw University has made it his goal to have every student establish and use their LinkedIn profile throughout their four years of college.
Three awesome tips from Langerud:
Create your profile for where you wish to work next.
Be specific about what you are seeking from your connections.
Join groups that share you professional interests.
Keep in mind that even though you might not have too many connections outside of your collegial network, you can take advantage of your parents' networks, Zugec says.
"Often, when a last name is highly recognized, potential connections are likely to accept requests and read any related correspondence," Zugec says. So, remember to be professional and write a killer LinkedIn invitation. And let's not forget alumni, professors and counselors! They're your job searching treasures, eager to help you out.
2. Apply for Internships Early and Often
"52 percent hope to have three or more internships before graduating, while only 40 percent have had at least one internship so far," according to the Student Career Development Study.
Not all internships will turn into post-grad opportunities (especially for freshmen and sophomores whose graduation date is too far off). Every internship, however, will help you land a job in the future. For recent grads, employers will almost always choose the resume with more experience.
3. Clean Up Your Online Identity
A recent Jobvite study shows that over 90 percent of employers are using social media to search for their job candidates—so be ready, folks! Millennials are often stereotyped as these hyper-connected, distracted social media fiends. While it's true that many of us grew up living online, we also know how to use social media to our advantage.
First things first, clean up your profiles. And keep your photos of cats, sunsets and concerts completely private. ""If you have that much time to spend online managing your [personal] social media," Frances Cole Jones, author of How to Wow: Proven Strategies for Selling Your (Brilliant) Self told us. "You don't seem like you really want a job."
In turn, create a professional, hireable online presence (especially on LinkedIn). The first thing employers do is Google you anyway. Start blogging about your professional interests. Give them something cool to find.