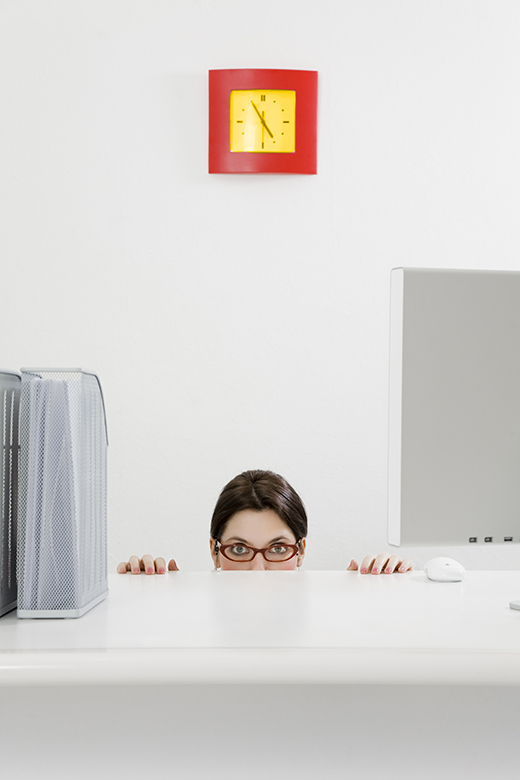 We talked about how to make sure your job search is discreet in a recent edition of CareerBliss' Resume Tip Tuesday—but there are more crucial steps to keep your job secret on the down low.
This post will cover the biggest mistakes folks make when job searching while employed. You have the right to conduct your job search privately.
Taking smart precautions can help you keep your professional relationships intact. In our age of access to unlimited information and fluctuating privacy settings for popular websites, it's worth going the extra mile to ensure privacy. Wrong impressions or hard feelings can cost you future recommendations, opportunities and connections.
So, let's get right to protecting your job search:
1. Forgetting to Manage Your LinkedIn Privacy Settings
For instance, if you're giving your LinkedIn a good ol' spruce and change your job title to your target job title rather than your current job title, LinkedIn will automatically publish this update in your entire network's newsfeed and possibly even email them.
One of LinkedIn's latest updates includes a privacy setting that could announce your job searching intentions.
This actually happened to Donna Sapolin of Next Avenue, she said in her column in Forbes.com.
During her transition period between a staff position to a freelancer position, she updated her title on LinkedIn. Much to her surprise, "LinkedIn sent out an automated email message to the 1,000+ members of my network encouraging them to "Congratulate Donna Sapolin on the new job" and also slammed their LinkedIn activity feeds with a "Say congrats on the new job!" message above my name and photo," she said in her article.
This can be awkward, especially if people assume you got a promotion or a new job, as in Sapolin's case.
To prevent this from happening to you, go to:
Privacy & Settings >> Turn on/off your activity broadcasts
Make sure the box is NOT checked! This is the safest bet while you make changes you wouldn't want everyone in your network to see.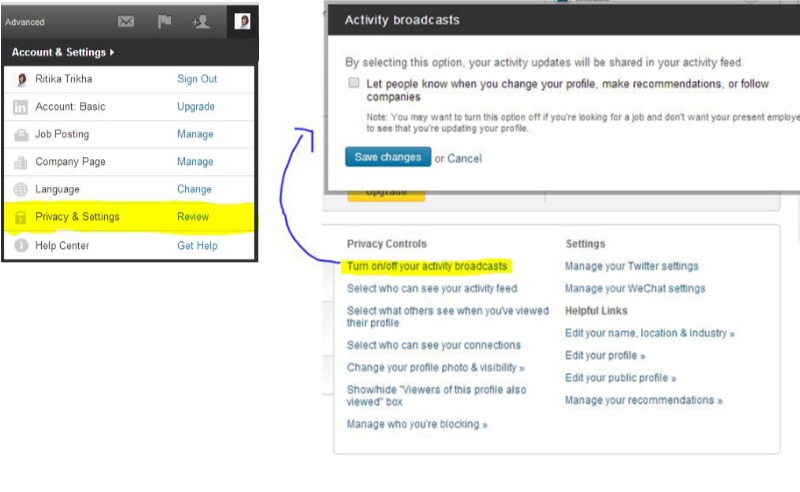 2.  Taking Appointments, Phone Calls or Submitting Documents at Work
Why risk it? Using company time and resources for your personal job search just adds another layer of disrespect on top of the existing bad news that you're looking for another job.
You never know when your boss or IT team may be monitoring your work devices. This great piece in the Wall Street Journal talks about how employers have every right to monitor what you're doing on company-owned equipment.
Since most of your time is spent at work, it can be tempting to take that phone screening interview during lunch. Better yet, it's more fruitful to keep bridges intact and stay amicable with your team by respecting company time and resources.
3. Publicizing Your Resume and Job Search Online  
Be incredibly careful about what you say online. Also, if you post your resume on public job boards, you risk the possibility of your current boss stumbling upon it. If you know your boss looks at dozens of resumes all the time, you might consider concealing your name and company name on your resume.
"However, if the role is a more general role (i.e. HR Manager or Director) I wouldn't recommend them listing themselves as a confidential candidate because no recruiter is going to reach out to you if you don't have the basic information listed," Taylor Eide of Versique Search and Consulting told us.
The more niche your job is, the more willing hiring managers will be of checking out your resume without basic name info.
Bonus: Not Taking Advantage of Job Alerts
Well, this point isn't exactly a mistake—it's more like a missed opportunity if you don't take advantage of it. As an alternative to No. 3, rather than posting your resume online publically, you can sign up for job alerts and let new, relevant job openings come to you. If you're interested, you can apply specifically to the jobs you love.
Create as many job alerts for similar jobs as possible so that you don't miss a beat!
CareerBliss offers one for you. Simply search for your favorite job title and enter your email address to your right in the box that looks like this: