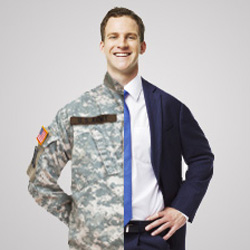 In honor of those who have served our country, on this Veterans Day we'd like to take a minute to offer helpful tips and resources for veterans transitioning into the civilian job market.
The overall veteran unemployment rate inched up to 6.5 percent in September, up from 6.2 in August, according to the Army Times.
One reason could be the technical skills gap between vets and employers. According to a study by the Military Benefit Association, 79 percent of veterans say they find it difficult to translate their military skills into something a civilian manager can relate to.
To help such veterans bridge the gap, we spoke with several veterans who have successfully transitioned into civilian life and found a job.
"Given the challenges veterans face as they separate from the military, our country's heroes need to begin thinking and acting like veterans well before they leave active duty," says Roy Gibson is a retired US Air Force Senior Master Sargent and president of the Military Benefit Association.
It's never too late! Here's a roundup of what we found based on extensive veteran interviews and research:
Broaden Your Scope of Skills
"When veterans are completing their resumes or job applications, it's important they don't narrow their scope of skills," Gibson says. For instance, "if you're a specialist in repairing jet engines, think of yourself more broadly as a mechanic."
Charles Murphy, a veteran of the Gulf War, would agree with this approach. When he started applying to jobs, he "had no preset ideas that I needed to get a job that was commensurate with my skills learned in the Navy," he tells us. "A start is a start and my first priority was to get money just to merely survive and pay rent so I put out a broad search of jobs I felt I was qualified to do."
Also, it's okay if you start at ground level, he adds, because even though you served, you still need to prove yourself. Today, Murphy is the Vice President and CFO of American Investment Services Inc.!
Research the Most In-Demand Skills
Here's the great news: There's a myriad of resources specifically designed to help unemployed veterans promote their transferable skills, out-of-this-world work ethic and learn fresh, relevant skills (see our list below).
Army veteran Tom Takano found himself unemployed and homeless a few years ago. He learned tech skills autodidactically and earned IT certifications to string together various assignments to earn money. He eventually founded Nationwide LCD-TV repair company in Sacramento.
Takano stresses that, for veterans, there are opportunities if you look in the right place.
"For example, the information technology industry is in need of skilled talent across a variety of specializations such as PC repair, VoIP, software coding, and other in-demand tech skills," says Tom Takano, founder of Nationwide LCD-TV Repair, who has served in the US Army.
For a more information on learning the most in-demand skills, check out:
Focus and Highlight Your Transferable Skills
"Visualize yourself succeeding," he says. "Yes, it's a challenging economy and coming back to the civilian workforce can be an adjustment. However, don't lose sight of the fact that veterans have the skills that businesses need—they are diligent, committed, experienced and understand how important it is to support colleagues and work closely with your team to achieve goals," Takano says.
All of these are golden!
Murphy agrees and recommends that it's important to focus on your soft skills versus your hard skills because they don't "necessarily cross over to skills in the civilian world." Instead, "most employers will recognize the dedication it takes to start and finish something demanding such as four to six years in the military," Murphy says.
10 Free Resources for Veterans
1. Service Corp of Retired Executives (SCORE)
This is a great tool if you're interested in entrepreneurship or owning a small business. SCORE offers online mentorship from retired business owners--for free! It's a good idea to enlist advice from someone who's already made it in the civilian world. There's even a special segment dedicated for helping Veterans, Guards and Reservists.
This mission is made up of more than 120 private sector companies who have made it their goal to hire at least 100,000 US military veterans by 2020. Check it out!
3. Military Benefit Association
Its resource center contains some useful discounts. For instance, you can get no or low cost online Kaplan courses here.
You can apply to jobs at the Department of Defense or take a look into their "Department of Defense Hiring Heroes Program." This program offers recruitment assistance to veterans who are wounded, ill or transitioning. This is where you'll find specialized career fairs as well for veterans and their spouses.
This is another mentorship-focused resource aimed at connecting veterans with business leaders. It's awesome for networking opportunities, specifically for veterans.
6. Military.com
They've got a Transition Center, that offers a "veteran employers" search engine as well.
First and foremost, this is the best news aggregator for veterans. Additionally, you'll see career fairs in various industry sectors, like law enforcement.
9. National Veterans Foundation
This organization offers a Lifeline for Vets service, which allows you to talk to people who will listen. It also offers vital resources, like an in-depth Veteran Benefits Resource Center.
Also known as "Feds Hire Vets," this site is a great resource for those of you looking for a federal job. They even have "Veterans' Preference" for eligible folks.
Bonus: 750 Free Online Courses from top universities. Though this isn't specifically geared toward veterans, it's a fantastic resource for you to expand your skills. And if you're looking for veteran-friendly companies, check out CareerBliss' list of 10 Best Companies for Veterans, based on the best reviewed companies who are putting veterans back to work.