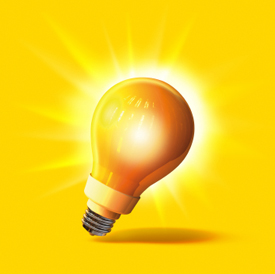 Need to come up with an idea or a solution but just can't seem to get the creative juices flowing? Stop staring at a blank screen and consider one of these jump-start strategies:
1.  Brainstorm Without Limits
Put pen to paper (or fingers to keyboard) and start jotting whatever comes into your head. Don't edit your thoughts or judge the feasibility. Freedom from censorship often enables hidden gems to surface.
2.  Draw
If writing isn't working, try this suggestion from illustrator Steph Calvert, graphic and web
designer behind Hearts and Laserbeams.
"Get out that legal pad and your favorite writing pen and doodle your heart away: boxes, scribbles, swirls, flowers. Do whatever comes out, just letting your mind wander. Maybe write the name of your project in fun letters and come up with a little character that symbolizes that project. Have fun with it, and don't worry about whether your drawing is any good. If you've got supplies you'll be using for the project, doodle those. How do they work together? Better yet, how do they play together?"
3.  Seek help from others
While you might not be "on" today, your colleague may be brimming with ideas. Explain your dilemma, and be open to input.
4.  Look at the competition
How have others in your industry or a similar field dealt with the problem you are trying to solve? What did they do right, and how could one improve upon their idea? While you're not out to copy, examining what others have done can lead your mind in new directions.
5.  View in terms of questions
"Asking questions stimulates the creative center of the brain and opens the door to problem-solving," says Brad Squires, founder of Bold Type Design. "Asking 'what-if' questions is especially powerful: What if PowerPoint didn't exist? What if I was Steve Jobs - is this how we'd design it? What if we had to do this for twice as many customers? What if I could only use 10 words to capture attention?"
6.  Do the opposite
Try this tip from Mike Bal, digital marketing director for Baseline21:
"Take a break and do something or work on something that's out of your normal routine. If you're an artist, take a little time to read something related to science. If you're an accountant, listen to some of your favorite music you haven't heard in a while. Stimulating the dormant side of your brain will give the side you use most a chance to relax and recharge."
Lindsay Anvik, CEO of See Endless, advocates a similar strategy.
"I flip things around. I try to think of what I would do if I had to be creative with the opposite problem. Instead of crisis communications, what if a client wanted to promote their philanthropy? Oftentimes, this gives me the answer -- or at least gets me started in the right direction."
7.  Move around
Trying to force creativity may be causing you to tense up your muscles. Stand, stretch, climb the stairs – whatever you can to loosen up.
8. See what speaks to you
Whether a classic work of art, an inspirational quote, or a YouTube video, there is something out there bound to stir your imagination. Provide yourself the opportunity to find it.
Angela Montanez, owner of the PR agency Door 24, likes to create collages.
"I gather magazines, peruse the Internet, and print out photos and words that speak to me," she says. "I pull out my giant box of Crayola products, and I begin to create. After making 2 or 3 collages, I am creatively energized and usually grab a nearby pen and pad and begin to jot down whatever runs through my mind at this point."
9.  Change the environment
Ready to throw a paperweight at your screensaver? Get out of your work area. Whether it is taking a laptop to the conference room or walking the hallways in search of inspiration, new scenery can encourage new thoughts.
Many people feel refreshed after being outdoors. Author Allen Klein found walking his dog so helpful for generating ideas that he acknowledged his four-legged friend in his book, while entrepreneur and motivational speaker Felecia Hatcher finds swinging at the park a good cure for a creative rut.
10.  Sleep on it
Lastly, if you have the luxury of taking a nap or can wait until tomorrow for a solution, consider a rest. Your brain will continue searching for answers while you're dozing, possibly leading to fresh ideas when you awake.