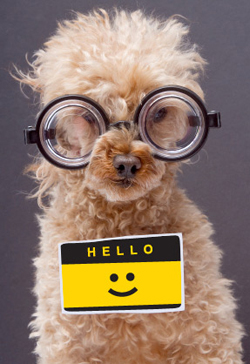 Wondering how well you'll integrate with your new coworkers? Before your anxiety sets in, take solace in the fact that they wouldn't have hired you if they didn't think you'd be a good fit for the company culture. So, don't stress too much.
It's natural to be nervous. But realize that you can take measures to make a positive impression and gain respect in your new workplace.
Consider these  tips to help you make a positive impression during your first few weeks:
1. Be Punctual
By waltzing into the office whenever you please you might give the impression that you own the place. Get there promptly. Do one better and get to work early. This way, you can give yourself time to meet and greet or navigate around the new building.
2. Jot Names Down
Prevent setting yourself up for that awkward moment when you don't remember someone's name but they know yours.
One tactic is to write names down as soon as you're alone and they're still fresh in your mind. Next to the name, write their role and one thing that can help you differentiate (e.g. Alex, tall accountant). Try not to use negative characteristics in case someone stumbles upon your notepad — then bam! You're the office jerk.
3. Dress to Fit in
If you forgot to ask about the dress code, here's a hint: on your first day, dress like your interviewer —but your safest bet is to dress professional. Afterwards, make it a point to notice how others are dressing and emulate the level of professionalism in your attire.
4. Avoid Self-Pigeonholing
When it comes to socializing and networking at work, it's tempting to pigeonhole yourself as soon as you find an ally with whom you find comfort and amity. Push yourself to talk to others or else you might become clique-y.
5. Modesty is Key
You surrendered your bragging rights as soon as you exited the interview room. The sooner you realize this, the faster you can genuinely impress your colleagues by showing them what you've got rather than talking about what you did once upon a time.
6. Smile Often
The benefits that result from smiling are plentiful: an air of confidence, friendliness and making others feel good about themselves, to name a few. Smiling at others is the best way to hide any nervous feelings or discomfort you might feel from being the new kid in town.
7. Don't be a Gossip
You've only just met these people. Keep conversations light and casual—even if you find that your colleagues are giving you the lowdown on others around the office. Simply nod, smile and try to change the topic.
8. Be Observant
As the newest employee, it's your job to listen and learn how things generally work around here—try and go with the flow. For instance, does the boss have an open door policy? How heavy is the use of internal instant messaging? Are others listening to music on their headphones while working?
9. Don't Be Pesky
While it's okay to ask a coworker about new systems or unfamiliar processes, demonstrate your savvy and independence by figuring some of the simple stuff for yourself. For instance, seek out your new HR manager regarding your sick days rather than your cubicle neighbor.
Don't know how to use a new version of a program? First try Googling a how-to guide before you ask around. Though never, ever be afraid to ask your boss the hard questions.
10. Be Genuine
It's important to take a sincere interest in someone rather than try too hard by offering bogus compliments. Insincerity raises suspicion and you could lose respect as a result of it.