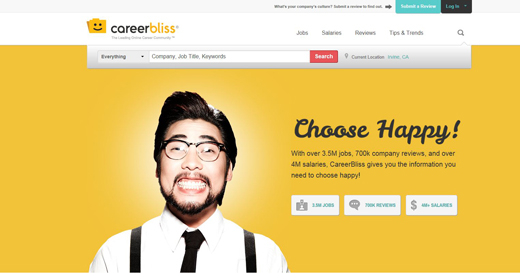 The new CareerBliss is here, and happier than ever.
Still the best destination for all the career stats you crave, such as salary info and company reviews, the new site lets you personalize your CareerBliss experience with company news, jobs, connections and more sent directly to your very own feed.
CareerBliss.com is your place to:
Find a Job: We have more than 3 million jobs across all industries, and we add new jobs daily! Let us help you in your search -- set up a job alert and we'll send relevant jobs directly to your inbox.
Follow Companies: Stay up to date with your favorite companies with the latest jobs, reviews and more sent straight to your personal CareerBliss feed.
Find Connections: Uncover all of your company connections and supercharge your network by linking your social media profiles to your CareerBliss account.
Check Out reviews: Get the inside scoop about what companies are really like – we have more than 700,000 company reviews.
Research Salaries: Figure out your earning potential, prep for a salary negotiation or get an idea of how much your boss is pulling in. We have the stats on more than 6 million salaries.
Start your journey to a happier career today and check out the new CareerBliss.com!