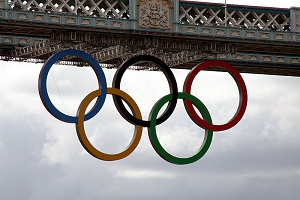 The Olympic Games are worldwide, historic and grand spectacle—unifying all nations for a chance to compete for the most prestigious award in sports. As this year's London games are winding down, we got to thinking: how amazing would it be to actually lend a hand in putting it all together?
The event pulls in thousands of employees, folks on contract, students and volunteers to put it all together. Who's behind it all? The International Olympic Committee (IOC) is the superlative organizer overall, but each country has a National Olympic Committee that hosts the games when it's their turn.
We wanted to see what it's like to work at the most prestigious, historic sports competition – check out some of the pros and cons of working at the Olympics:
Working at the Olympics Pros
"The great challenge to build something of such a global appeal." — Internet Manager for International Olympic Committee on March 24, 2012.
"The 1984 Olympic Telecast was a once in a lifetime experience." — Commentator Systems Operator on March 26, 2010.
"I loved volunteering with the Special Olympics. The people are genuine and you know that you are there to benefit a fantastic cause." — Volunteer for Special Olympics in 2009.
I enjoyed working in a team environment and being able to make a substantial contribution to the team's efforts to run a successful 2002 Olympics in Salt Lake City." — Accreditation Manager on October 9, 2009.
Working at the Olympics Cons
"For the Olympics project, one would have to move with the games every four years." — Application Specialist who worked on the Special Olympics project on July 21, 2012.
"It's only for a determined amount of time since the Olympics are appointed from city to city!" — Internet Manager on March 24, 2012.
Want to get involved?
The 2016 Olympics are scheduled to be in Rio de Janeiro, Brazil. But you don't have to wait every four years to work at the Olympics! Alternatively, you can lend a hand in the Special Olympics, an international sporting event dedicated for children and adults with special needs. These events occur all over the world: Find one near you!
Image sources: Wikimedia Commons