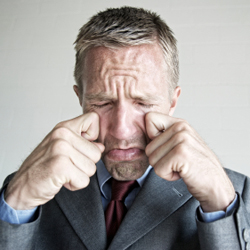 Unsure about how to handle a certain situation at work? Let CareerBliss etiquette expert Elise McVeigh tackle your workplace etiquette questions -- send questions to Luke Roney at luke.roney@careerbliss.com and he'll forward them to Elise.
Workplace Waterworks
Q: I'm very emotional and I get emotional at work a lot. Is it OK to cry at work? If I'm feeling emotional, what should I do?
A: If you feel the need to cry at work, do it discreetly. If you feel like you are about to cry, if possible step outside and sit in your car or in a place where you will not be seen. You want your coworkers and superiors to see you as a strong person who can handle any task that is given to you. Being emotional is a great personal quality to have, but may not be appreciated by everyone in the workplace.
Unreachable Bosses
Q: I work at a small company and often get direction straight from the owner, but when I need clarification, feedback or approval on something, he doesn't respond to my emails and calls. How do I get this guy's attention without ticking him off?
A: Tell the owner through email, voice mail and his assistant that you know he is a very busy person, but you need to get hold of him, and you would like to know the best way to communicate with him. Even suggest some kind of system where when you do contact him about a project or concern you will give it a high, medium or low priority. This way he will know that when you tell him it is a high priority, he needs to respond right away.
Office Romance
Q: True story – I walked in on two coworkers getting intimate in a conference room. One of them is married. I saw them and they saw me and now everything is weird. What do I do?
A: Continue to not say anything to your coworkers about the incident, and act like it did not happen. If your coworkers are that uncomfortable about it, let them say something to you. They are the ones who have done something unprofessional, so take the high road and try to forget about it.