CareerBliss has salary info, hundreds of thousands of company reviews and millions of jobs!
---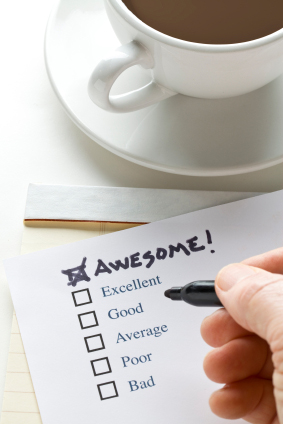 Should coworkers be able to weigh in on your performance review? We put on our pollster hats and asked our CareerBliss community.
It was pretty close —out of almost 700 CareerBliss respondents, 55 percent said, "No, I don't trust them to be objective" and 45 percent said, "Yes, they know how great I am."
One CareerBliss commenter makes an intriguing point: "If your peers do not respect your work, you are not doing something well enough."
In other words, you can squash the chances of being a victim to petty coworkers' malicious shadiness by focusing on being totally indispensable.
On the other hand, "In today's uber competitive job market, there are so many cutthroat individuals fearing for their jobs that they jump at the chance to 'one up' " argues another commenter.
(How dreadful it must be to work with that commenter's coworkers!)
Despite the misgivings of some employees, many companies find value in peer reviews – they ostensibly offer a broader view of an employee's performance and how that employee works within a team.
But too many employees brush off peer reviews like they mean nothing. It's a missed opportunity. Here's how to take advantage of your company's peer reviews and boost your career:
1. Take the Reviews Seriously (But Not Personally) for Personal Development
Usually, it's pretty easy to differentiate between constructive feedback, like "great interpersonal and communication skills, but needs to work on meeting deadlines" and lackluster comments, like "needs improvement."
So let's toss the latter and focus on the good stuff. Reflecting and acting on constructive feedback will help you out more than you know. The best peer feedback will shed light on your blind spots. Just don't take it personally. Mary Lastrapes, president of RTR Consulting, LLC, has had experience with one instance that went terribly wrong.
"Of the eight mangers on a team being evaluated, one manager was offended by a couple of ratings or comments made by peers or subordinates," she says, "she began to treat those she 'suspected' poorly, and she tried to investigate to confirm the source of comments."'
There's really no need to conduct a full-scale, CSI-style investigation because of a few negative comments! A better use of time would be to work on your team-building and interpersonal skills.
2. Emphasize That You Are a Cultural Fit
"Peers see a side of the employee that bosses don't see due to the power differential," says Joshua Kuehler, founder of Internal Consistency. So they're a good indicator of company fit and team dynamic.
For instance, "a boss may see that their shining star employee is difficult to work with according to the rest of the team members," Kuehler says.
Though you can't control how others will rate you as a team player or culture fit, you can make an effort to be a great one. Check out this helpful article by Dorie Clark of Forbes on Five Ways to Become a Better Team Player.
3. Impress them With Your Analytical Skills.
Some companies allow you to disclose your name when evaluating others. Lastrapes says "performing in an unbiased, objective manger will demonstrate the professionalism and analytical abilities of the employees." In other words, opting to offer awesome feedback is a wide open opportunity to impress the big dogs (aka your boss) with killer, valuable analytical skills.
So be constructive, thoughtful and objective when evaluating others. It shows that you want the best for the company and really want your team to succeed. Seize the opportunity!
Guest posts make us happy! Want to contribute to CareerBliss? Check out our submission guidelines.