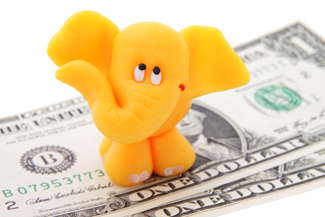 A few months ago, I taught my Father how to use social media. My father is a builder, and while the concepts and communication philosophies that lie behind Twitter, Pinterest and Instagram still elude him ("But I don't want to know what Richard Branson had for breakfast!"), he now has a Facebook page.
Convincing this hulk of a man who makes his living knocking down walls with a sledgehammer that he needed a Facebook page was one of the highlights of my IT career. Since then, I'm pleased to report that his business has increased by a third, by following just a few simple social media tips that even a 60-year-old man with fingers the size of sausages can master.
Entering the Online Sales Room
Apart from staying in touch with one's family and loved ones and posting funny cat pictures, social media is a tough sell to the technologically challenged, for the sole reason that it's hard to explain what it's actually FOR.
The answer is surprisingly simple: social media is a tool you can use to sell anything you want.
We all have something to sell, whether we know it or not. When we go online and log into our social media pages, we are unconsciously stepping into the shoes of a salesperson.
Whether we have something physical to sell such as your own hand-made jewelry, a service to market such as roofing repair,  or if we're actually selling ourselves in the case of job hunting or dating, social media is our own personal storefront through which the world can browse our wares – either physical or mental.
Here's how to make that sale:
Lesson 1: Talk About Your Elephant
According to recent studies, the average person has 303 Facebook friends and 208 Twitter followers. With such an army of people watching your every move, the easiest way to market whatever it is you are trying to sell is to simply talk about it.
So if you're a sculptor, post daily pictures of your latest pieces of artwork, and eventually people will start asking "where can I buy one of these?" They may even repost links to your online store and help you promote your business on their own pages.
The takeaway: Online friends and followers can be your biggest champions.
Lesson 2: Feed Your Elephant Often to Attract the Crowds
At the zoo, the biggest crowds form at feeding time. Everyone wants to see the tiger eating its steak, or the piranhas demolishing their goat leg. On social media, you can observe this kind of 'feeding frenzy' when a fresh post goes up. The shelf life of a Social Media post has shown to be only about 3 hours before the post has been Liked, picked clean of every last shred of gossip and the pack has moved on.
As human beings, we are creatures of habit. We are lulled into a state of comfort when we learn when we can expect something to happen. So establish a regular time to post. If there is a fresh picture or post on your page every single day, people will be more likely to visit it.
The takeaway: Establish a 'feeding time' for your followers and stick to it.
Lesson 3: Seek Out Opportunity Like an Elephant Seeks Out Peanuts
Thomas Edison once said that "we often miss opportunity because it's dressed in overalls and looks like work." Make a point of starting each day by reading your social media feeds in depth, and looking for one bright new opportunity to market yourself or your services. Comment on a friend's page where he mentions similar businesses to yours, or research hash-tags on Twitter related to your industry and use them in your own posts.
A lot of people skip this vital legwork because -- guess what – it feels like work, and social media is supposed to be fun. But imagine yourself laying a social media peanut trail on the ground for your prospective clients. Each comment you make is like dropping a peanut on the ground. Drop enough peanuts in the right places, and very soon people will come flocking in your direction looking for the rest of the bag.
The takeaway:  Help new clients find your services by leaving an online trail for them to follow.
Lesson 4: Help Your Elephant Go Viral
In my Father's case, social media helped him sell a real-life white elephant. He'd bought a cement-mixing truck which wound up costing more to run and clean than the extra profits it brought in. Months of adverts brought no calls, so I convinced him to try something new.
He bought a fluffy, pink car moustache, slapped it on his truck under the 'For Sale' sign, and uploaded a shot of it as his Facebook cover photo. The photo was widely shared amongst his clients (my father is not commonly known for his sense of humor) and within days he had a visitor wanting to buy 'the Moustache Mixer.'
The takeaway: Photos on Facebook equals eyeballs on your product.
Step 5:  And Finally … Clean Up Your Elephant to Make the Final Sale
If you are currently searching for a new job, you might not think that social media can help you. Think again. Research shows that 37 percent of hiring managers will check your Facebook profile before hiring you.
Guess what this means? You need to get out a giant scrubbing brush and clean your profile up. Nix those hilarious photos from Band Camp, do a Search'n'Destroy on naughty words and questionable hobbies, and start industrially 'Liking' pages to do with your chosen career and admirable personal interests.
The takeaway: Cleaning yourself up online doesn't mean being fake – just be sure to present your best self online, as though you were in a job interview or first date. Then you'll be ready for anything.
---
Natasha Rhodes is a careers expert and writer for CareerBliss, an online career community dedicated to helping people find happiness in the workplace. Check out CareerBliss for millions of job listings, company reviews, and salary information.